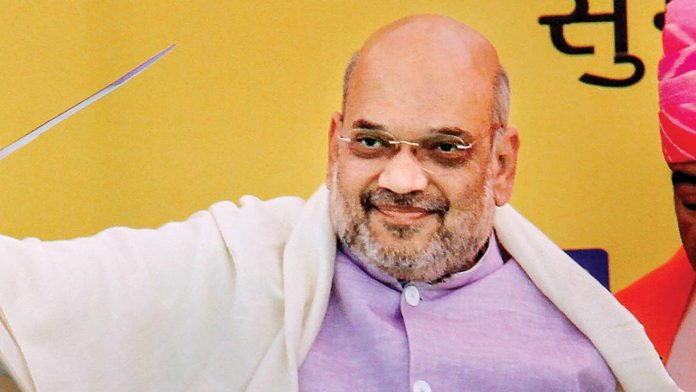 New Delhi | Ending speculation that the party high command had differences over backing B S Yediyurappa to make another shot at running a coalition regime in Karnataka, the BJP central leaders backed the new dispensation and hoped it will herald a 'new dawn' for the state. "Congrats to BS Yediyurappa, newly sworn in CM of Karnataka. I am sure under his leadership and under the guidance of PM Modi, BJP will give a stable, pro-farmer and development oriented govt in the state.
I assure people of Karnataka that BJP is committed to fulfil their aspirations," BJP president and Union Home Minister Amit Shah tweeted. Mr Yediyurappa was sworn in as the chief minister of the state for the fourth time on Friday evening and curiously no senior central leaders were present on the occasion. Governor Vajubhai Vala administered the oath of office and secrecy at Bengaluru to the 76-year old leader 'Yediyurappa', who adopted to new spelling for his name from the earlier Yeddyurappa.
In fact, there was speculation over whether the central BJP leaders did not favour Yediyurappa trying his luck with power yet again as he had failed last year after Governor had given him opportunity as leader of the single largest party last year. BJP MP Shobha Karandlaje, also known for being a key member of Team Yediyurappa, was the firt to claim that Amit Shah and party's working president J P Nadda had backed him.
"Under the instructions of Amit Shah and J P Nadda, Mr Yeddyurappaji will take oath as CM of Karnataka today at 6:00 PM. A new dawn for Karnataka. Congratulations to all the Karyakartas and supporters who made this possible," tweeted Ms Shobha Karandlaje.
Ending three weeks of political suspense marred by several legislators moving in to a Mumbai hotel and charge and counter charge of horse-trading, H D Kumaraswamy government collapsed on Tuesday as it could not manage numbers during Confidence Motion voting.
However, later in the day BJP leaders in Delhi said unlike 2018 – when Mr Yeddyurappa was given a chance immediately after polls in May last year, this time the veteran BJP leader will be able to provide a stable government.
In the trial of strength on Tuesday, BJP had 105 numbers as against 99 of JD(S) and Congress combine. In the meantime, Speaker has disqualified three members. Senior Congress leader Siddaramaiah tweeted: "BJP in Karnataka has the strength of 105 which is way less than the half way mark (of state assembly full strength). In no way BJP can form the govt if constitution is followed. This only proves that BJP has no belief in the democratic values".
Later at a press conference in Delhi, Mr Nadda claimed his party had nothing to do with the collapse of JD(S)-Congress combine government. "Karnataka government (under JD(S)-Congress) fell due to its own reasons. B S Yediyurappa made forward movement only after that process. These things happen as per the wishes of democratic forces…….I will only say BJP is a party committed to provide clean administration," Mr Nadda told reporters answering questions.
BJP's newly appointed general secretary Organisation B L Santhosh also backed the move to form new government headed by former Chief Minister Mr Yediyurappa and tweeted saying: "Karnataka set to witness a new era in its Vikas Yatra …".