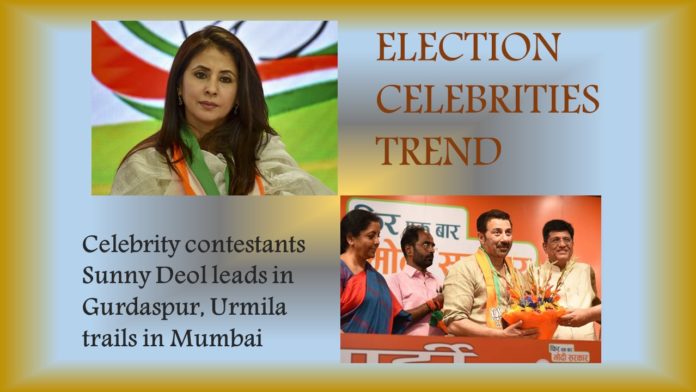 New Delhi : Bollywood actor-turned-politician Sunny Deol who joined the BJP is leading in Punjab's Gurdaspur, while Urmila Matondkar who made her electoral debut with the Congress party is trailing in Mumbai North. As the early trend shows that Sunny Deol from Punjab's Gurdaspur seat is leading with 1,23,813 votes, while Sunil Jakhar from Congress is trailing with 91,626 votes.
Urmila Matondkar from Mumbai North is trailing with 27,775 votes, while Gopal Shetty from BJP is leading with 84,701 votes. In Uttar Pradesh's Mathura, Hema Malini from BJP is leading with 67,485 votes, Kunwar Narendra Singh of RLD is on the second position with 32,545 votes, while Congress candidate Mahesh Pathak is trailing at 3,197 votes.
From Bihar-Patna Sahib, Shatrughan Sinha from Congress is trailing with 31,074 votes, while his BJP rival and Union minister Ravi Shankar Prasad is leading with 53,193 votes. From Karnataka-Bangalore central, Prakash Raj who is contesting as an independent candidate is trailing with 10,168 votes, P C Mohan from BJP is also trailing with 2,09,197 votes, while Rizwan Arshad from Congress is ahead with 2,33,624 votes.
Gautam Gambhir is ahead with 45,977 votes in East Delhi, Aam Aadmi Party's (AAP) candidate Atishi is trailing by 13,057 votes, and Arvinder Singh Lovely from Congress is trailing with 18,389 votes. In North West Delhi, BJP's Hans Raj Hans is ahead with 93,758 votes, AAP's Gugan Singh is on second place with 31,547 votes, while Rajesh Lilothia of Congress is on third place with 23,719 votes.
In Uttar Pradesh-Fatehpur Sikri, Congress candidate Raj Babbar is trailing with 9,281 votes, while BJP's Rajkumar Chahar is leading ahead with 38,990 votes. BSP's ShreeBhagwan Sharma is on third place with 7,178 votes.
In Chandigarh, BJP's Kirron Kher is leading with 14,654 votes, while her Congress rival Pawan Kumar Bansal is trailing with 13,140 votes. Parveen Kumar from BSP is on third position with 586 votes.