JAIPUR, 28 November 2019 – DBS Bank India Limited (DBIL) today launched its first branch in Jaipur. Located at Shakhar Marg, Lal Kothi, the branch will offer a comprehensive portfolio of diversified financial products and services, to cater to the evolving banking needs of small and medium businesses, as well as retail customers.
Earlier this year, DBS had marked significant milestone in its India journey, with the establishment of its wholly owned subsidiary, DBS Bank India Limited (DBIL). Through DBIL, the bank aims to accelerate its growth plans and build greater scale in India.
DBS, which was named 'Best Bank in the World' in 2018 and 2019[1], has been on an ongoing journey to shape the future of banking. The bank has designed end-to-end digitised solutions to seamlessly interweave banking into a customer's everyday life, by making it a part of their ecosystem.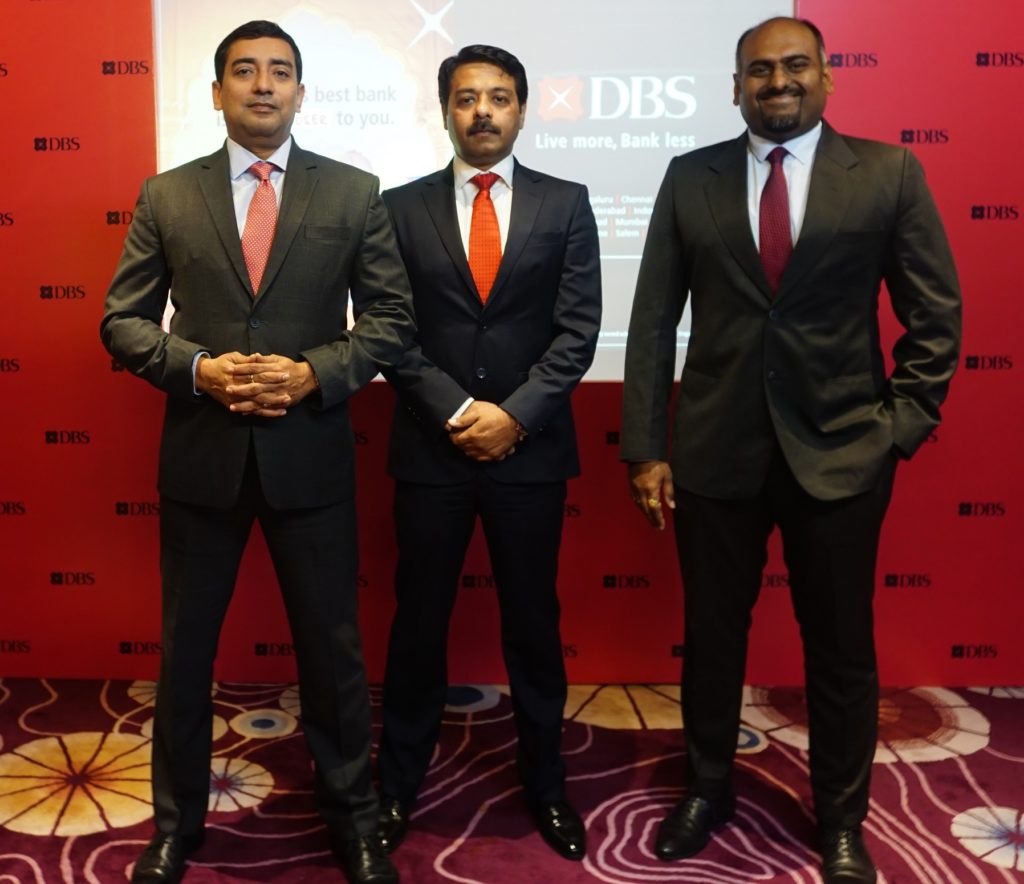 Commenting on the launch, Priyashis Das, Head – Branch Banking & Wealth Management- Consumer Banking, DBS Bank India Limited said, "We are delighted to expand access to our banking services in the state of Rajasthan, with the inauguration of our first branch in Jaipur. Jaipur is an integral part of our expansion strategy and we look forward to strengthening our relationships with our customers in the market.
The city has witnessed a rapid transformation over the past few years, augmented by efforts of the Government to boost the innovation and entrepreneurship ecosystem. With the market is poised to grow further, we are bullish on the opportunities ahead."
Commenting on DBS' plans for SMEs in Jaipur, Sudarshan Chari, Head- Business Banking, DBS Bank India Limited said, "We, at DBS are committed to empowering local businesses and supporting the Indian SME growth story. Through our proposition, we aim to enhance the ease of doing business and enable SMEs to leverage greater opportunities for business expansion.
The launch of our Jaipur branch enables us to strengthen our footprint and serve local SMEs better. We believe that our deep understanding of the nuances of Indian SMEs and 50 year legacy of serving enterprises globally will allow us to pave the way for future growth for these enterprises"
For businesses, DBS has designed solutions that cater to the entire banking lifecycle and make banking simpler and invisible for time-strapped business owners. These include express account opening, digi business loans, a range of collection solutions to trade-related services and solutions for their other transaction needs.
Earlier, DBS had also entered into a partnership with Tally Solutions in 2017 to launch a first-of-its-kind connected banking platform to enable convenient GST payments and accounting processes for SMEs.
In 2016, DBS launched India's first fully digital bank, digibank, with aim to deliver an entire bank in a smartphone. Since its launch, digibank has acquired 2.5 million customers. In addition to savings accounts, digibank also provides unsecured loans and is the first to offer paperless onboarding for mutual fund investments from multiple fund houses.
As one of Asia's premier banking destinations, DBS offers a compelling suite of services and wealth solutions through DBS Treasures. These include accelerated account opening services globally, an all-in-one one digital banking and wealth management platform, remittance services and 40+ exclusive signature experiences and bespoke privileges, including global travel and medical assistance programs, overseas education consulting and property management services for Global Indians.
About DBS 
Headquartered and listed in Singapore, DBS Group is a leading financial services group in Asia with presence in 18 countries. DBS Group's "AA-" and "Aa1" credit ratings are among the highest in the world. DBS Bank has been present in India for 25 years, having opened its first office in Mumbai in 1994.
DBS Bank India Limited is first among the large foreign banks in India to start operating as a wholly owned, locally incorporated subsidiary of a leading global bank. DBS provides the entire range of banking services for large, medium and small enterprises and to individual consumers in India.
In 2016, DBS had launched India's first, mobile-only bank – digibank, which now has over 2.5 million customers. Currently present across 20 cities, the Bank has been expanding its presence across India since converting to a wholly owned subsidiary. The Bank intends to further expand its presence within the existing cities as well as new locations with over 100 customer touchpoints.
Recognised for its global leadership, DBS has been named "World's Best Bank" by Euromoney, "Global Bank of the Year" by The Banker and "Best Bank in the World" by Global Finance. The bank is at the forefront of leveraging digital technology to shape the future of banking, having been named "World's Best Digital Bank" by Euromoney. In addition, DBS has been accorded the "Safest Bank in Asia" award by Global Finance for eleven consecutive years from 2009 to 2019.
DBS is committed to building lasting relationships with customers, and positively impacting communities through supporting social enterprises, as it connects customers and markets across Asia. DBS Group's Foundation works closely with social enterprises across all its key markets in Asia.
[1] DBS was named 'Best Bank in the World' by Global Finance