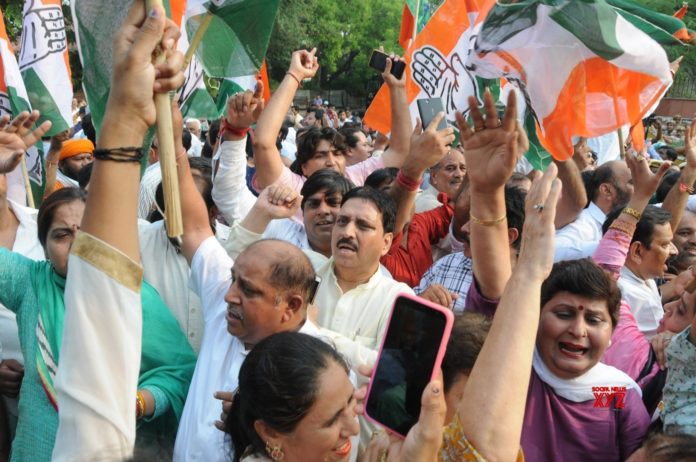 New Delhi | Delhi Congress workers carried a protest march towards BJP headquarters on Friday against Uttar Pradesh Congress General Secretary In-charge of Eastern UP Priyanka Gandhi Vadra's detention by the state police, after she sat on a dharna, for not being allowed to meet the kin of those killed in firing over a land dispute.
Working presidents of DPCC Haroon Yusuf, Rajesh Lilothia and Devender Yadav, condemning the detention of Ms Vadra, said it was nothing, but an attempt by the BJP to suppress the democracy. Led by Jaiprakash Aggarwal, Mr Lilothia, Mahabal Mishra and others, who carried placards, saying 'Priyanka Gandhi ko Riha karo….let free Priyanka Gandhi', the Congress workers initially assembled outside the Rajiv Bhawan and then proceeded towards the BJP office.
Earlier in the day, Ms Vadra was taken into custody by the Uttar Pradesh police in Varanasi's Narayanpur, neighbouring the Mirzapur border, where she was stopped on her way to Sonebhadra, to meet the relatives of persons killed in the recent violence. Protesting against the 'arrest' of Ms Priyanka, who is in-charge of Uttar Pradesh (West) where the incident took place, Congress called a nation-wide protest on Friday.
In a letter to all PCC chiefs, CLP leaders, AICC general secretaries, In-charge, AICC secretaries, heads of departments and frontal organisations, Congress Organisational General Secretary KC Venugopal asked them to hold dharna and demonstrations in all states. Congress leaders, including outgoing president Rahul Gandhi, condemned the arrest of Ms Vadra and blamed Mr Adityanath's government for the deteriorating law and order in Uttar Pradesh.
"This arbitrary application of power, to prevent her from meeting families of the 10 Adivasi farmers brutally gunned down for refusing to vacate their own land, reveals the BJP Government's increasing insecurity in Uttar Pradesh", Mr Gandhi tweeted.