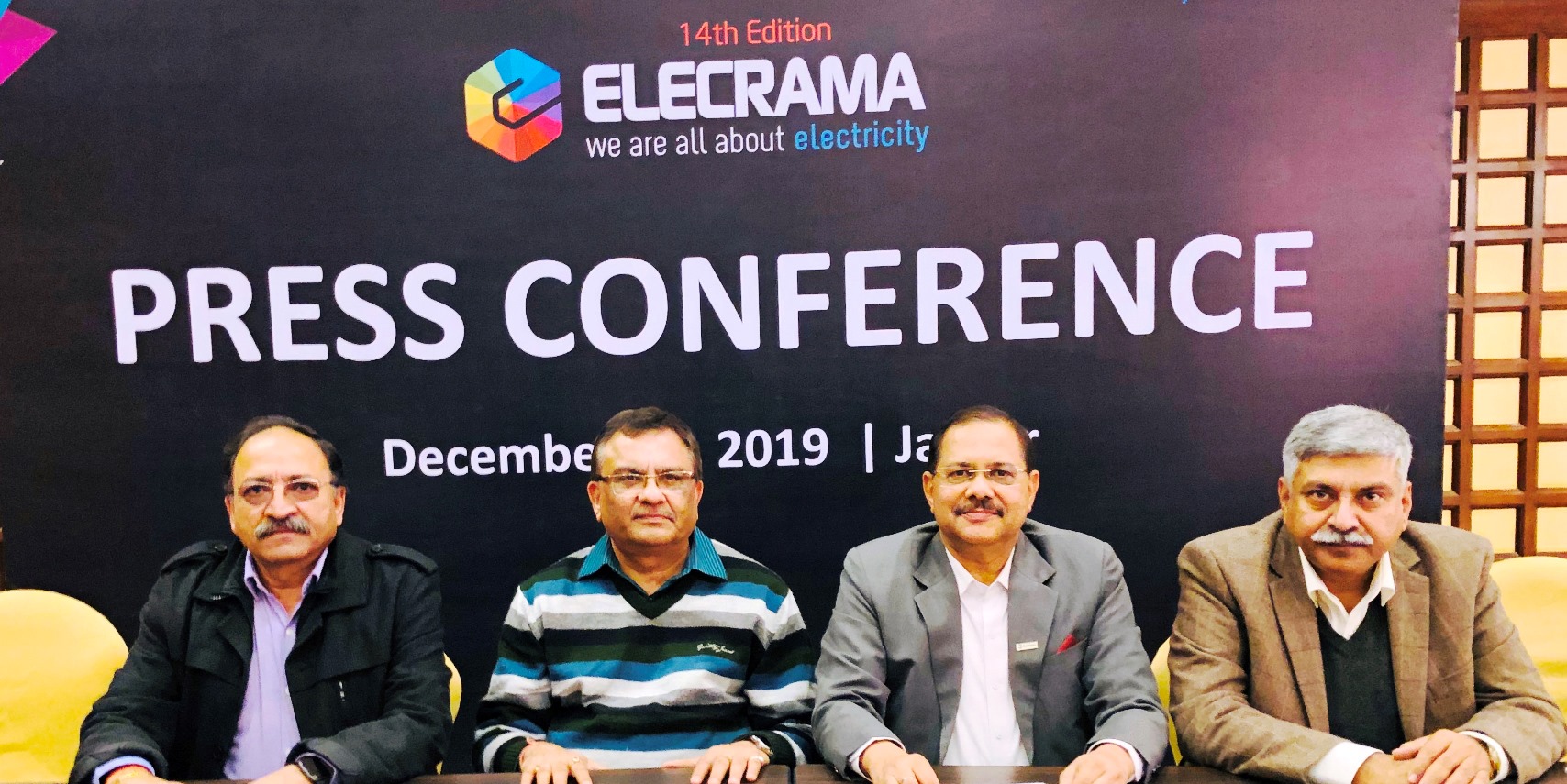 Celebrating electrifying 30 years of ELECRAMA
Various new segments introduced
One stop solutions for everything electric and energy
Jaipur: The countdown for World's Largest energy exhibition ELECRAMA 2020 has begun, the mega event is in its 30th year and poised to create another landmark this edition. The curtain raiser in these series was held on December 23, 2019 at ITC Rajputana in Jaipur where more than 320 stakeholders from the electrical Industry marked their presence. ELECRAMA over the years has emerged as a platform for knowledge-sharing with a strong focus on electric vehicles, Internet of Things (IoT), AI, storage solutions and renewable energy
Mr. Anil Saboo, Chairman, ELECRAMA 2020 said, "ELECRAMA is a global connects for the Indian industry, SME's and Start Ups in the electricity domain, and a showcase of India's strength as manufacturer of high quality, innovative and competitive products. Among 1300+ exhibitors more than 450 foreign Exhibitors from 60 countries & visitors from 120 countries shall participate along with 650 international buyers for RBSM which makes ELECRAMA 2020 truly Global Platform."
The mega event will be held from 18th January to 22nd January 2020 at India Export Mart, Greater Noida. The exhibition spans over 110,000 sq. mts. of exhibition area, 12,000 sq. mts of special pavilions, conferences and concepts, building a complete wholesome experience for the ecosystem players from around the world. The theme of this year's show will be Energy Transition & New Technology.
In this 14th edition various new initiatives like Women In Power for empowering the Women, Builelec for low voltage segment, DBSM and NSIC Pavilion for SSI units being introduced in addition to regular features of World Utility Summit, ETechNxt, RBSM, Rail Urja, Renewable Energy and Power Pavilion, etc.
Mr RK Chugh, President, IEEMA stated that, "ELECRAMA, the flagship show of IEEMA since its inception has followed a single minded pursuit of being relevant to the Industry and the needs of its constituencies. In consonance, as an evolution, now ELECRAMA has become a single biggest forum capturing this rich diversity of globally relevant challenges and solutions in the electricity ecosystem. Today, the ELECRAMA brand serves into the business needs of the utilities, government, EPC consultants, contractors, electrical equipment manufacturer's, generation companies from across the world, grappling with unique challenges to power the world."
ELECRAMA, the flagship event of IEEMA in the last edition recorded more than 2,98,0000 footfalls  and over 1,200 exhibitors showcased their products and services at the biggest showcase of electrical and electronics manufacturers. Business queries or more than 1 billion USD were estimated and visitors from various countries experienced transformational developments taking place in India and globally.
With emerging global reputation of Indian electrical equipment for sourcing products and components, we aim to increase our global share of exports from 1 percent to 5 percent in near future. The 14th edition of ELECRAMA will attract exhibitors from more than 60 countries and visitors from more than 120 countries.