The couple was seen at the Pune Airport. After winning the T20 series in Ahmedabad, Indian team has to play an ODI series against England in Pune. Anushka Sharma can be seen carrying baby Vamika in her arms while Virat, on the other hand, can be seen fulfilling his father duties as he carries the luggage and walks behind his family.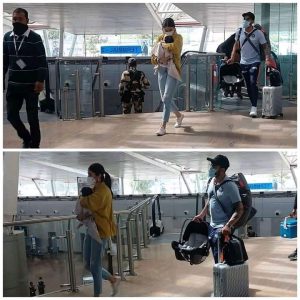 Anushka Sharma and Virat Kohli tied the knot in a private affair in Italy in late 2017. It's been three years of their marriage and fans love their amazing chemistry. Kohli and Sharma's child was born on January 11. The couple name their daughter Vamika.
Kohli announced the arrival of their child on Twitter with a message which read, "We are thrilled to share with you that we've been blessed with a baby girl this afternoon. We thank you all for your love, prayers, and good wishes. Anushka and the baby are both healthy and we are feeling beyond blessed to start this new chapter of our lives. We hope that you can respect our privacy at this time. Love, Virat (sic)."
View this post on Instagram
Kohli also altered his Twitter bio with the new one being "proud husband and father". That's why the Indian captain is considered as an ideal husband.
View this post on Instagram
  Anushka also shared a pic with his husband and daughter celebrating .
Indian clinched the T20 series against England with 3-2. The ODI series will begin on March 23. All the matches will be played in Pune. The second and third ODI will be played on March 26 and 28. All the matches will be played behind closed doors due to the rising coronavirus cases.