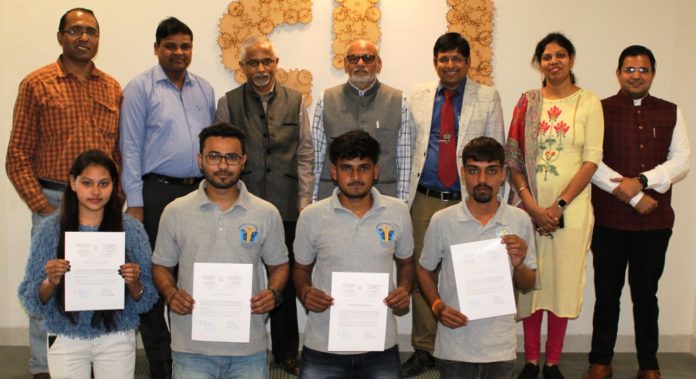 Jaipur, Bhartiya Skill Development University is sending four students for internship to Agricultural State University of Moldova. The four students selected for the internship are from the School of Entrepreneurship Skills at BSDU. The certification ceremony for the students was officiated by honorable Chief Guest:
Dr. (Brig.) Surjit Singh Pabla, Pro Chancellor, BSDU, Dr. Achintya Choudhury, Vice Chancellor, BSDU and Dr. Ravi Goyal, Principal, School of Entrepreneurship Skills were present on the dias.
Their internship at the University of Moldova will begin from 1st March to 31St May 2020 where students will learn about the working techniques in Moldova. Students will also get to know about the practices followed by Moldavia's to start a business of their own.
Dr. (Brig.) Surjit Singh Pabla, Pro Chancellor, BSDU, said, "BSDU's students will benefit from this opportunity and will get to learn more on an international modern businesses techniques which will value added to their career. Apart from training them in the university, we also send them out in the industry to get field experience, our students will get a similar experience at Agricultural State University, Moldova, Europe.
BSDU had signed a MoU with Agricultural State University of Moldova, under which, with compliance to the Department of Business Administration, both universities will open their doors for students exchange and internship programmes for students as well as research, development and innovation programmes for the staff members of the universities for the school of Entrepreneurship Skills.
Dr. Achintya Choudhury, Vice Chancellor, BSDU, said, "Our students will get to learn about the education system and the training style practiced in Moldova. This is a great chance for the students of our university get exposure and prepare themselves to enter the professional world. Our students will learn how to work with different techniques and make use of the training they've received here. Moreover, our students will also learn about the different practices to follow while opening and running a business.
Dr. Ravi Kumar Goyal heads the Schools of Entrepreneurship. He said, Our students will be dually benefitted by getting exposed to international environment and gaining knowledge of new and different modern business techniques with frequent industrial visits. This will help to bridge the gap between theoretical knowledge and real life experience and prepare them to enter the corporate world with hands-on experience of how industry operates.
About Bhartiya Skill Development University (BSDU)
The Bhartiya Skill Development University (BSDU) is a unique skill development university in India that was established in 2016 with a vision to create global excellence in skill development by creating opportunities, space and scope for the development of talents of Indian youth and by making them globally fit.
Under the leadership and thought process of Dr. Rajendra Kumar Joshi and his wife Mrs. Ursula Joshi from Switzerland on the lines of 'Swiss-Dual-System' of on the job training and education. BSDU is an education venture under the Rajendra and Ursula Joshi Charitable Trust. The Rajendra and Ursula Joshi (RUJ) Group have invested over Rs.500 crores to establish this university with 36 skill schools by the end of 2020.
The idea was to bring the Swiss system of skill development to India, thus, the father of modern skill development in India, Dr. Rajendra Joshi and his wife Mrs. Ursula Joshi formed the 'Rajendra and Ursula Joshi Foundation' in 2006 in Wilen, Switzerland and started working in this direction.
The objective of BSDU is to support, promote and undertake the advancement of the high quality skill education leading to Certificates, Diplomas, Advance Diplomas and undergraduate, postgraduate, doctoral and post–doctoral degrees in the fields of different skills and offer opportunities for research, advancement and dissemination of knowledge.