You don't have to be a football enthusiast to know Cristiano Ronaldo. There is no doubt that Cristiano Ronaldo is one of the greatest players to have ever played the game. Popularly known as CR7, the Portuguese star is one of the two greatest players in the world (obviously Lionel Messi is the other one). The highlights of his career include league titles in England, Spain and Italy, five Champions Leagues, two international trophies and five ballon d'ors. He is also known as the King of Champions League and has won the trophy most number of times. We believe that we know all about Cristiano Ronaldo, yet here are 5 Amazing things about Cristiano Ronaldo you may not be aware of:
Here are 5 Amazing things about Cristiano Ronaldo
The story behind Ronaldo's name 
The UCL king is born as Cristiano Dos Santos Aveiro, I bet many of you even didn't know his full name. Have you ever wondered why he was given the second name "Ronaldo"? You must be thinking a connection with Brazilian legend Ronaldo. Well you are definitely wrong. The story behind the name is bit surprising. Cristiano was the fourth child of Maria Dolores dos Santos and Jose Dinis Aveiro. CR7's dad was a big fan of former President of the United States, Ronald Regan, and so he decided to give this name to his son. Ronald is Ronaldo in Portuguese version. This is one of the Amazing things about Cristiano Ronaldo.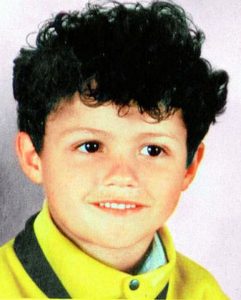 CR 28 – How does it sound? 
Cristiano Ronaldo is known for his initials CR7, that is the first letters of his name and his jersey number. Cristiano arrived in Manchester from Sporting Lisbon. The number 7 jersey was worn by star players like George Best, Eric Cantona and David Beckham. Ronaldo did not want the pressure of wearing legendary number 7 jersey. The Portuguese star wanted to take the number 28 at United. But Sir Alex Ferguson himself made him wear the number 7 because he trusted him. That move proved worth it and now you know he is the greatest no. 7 player. Even in Juventus also he took the No. 7.
"And of course I spoke with Cuardrado because he was No. 7. He said it was no problem and it will be a pleasure to give you No.7, my shirt. So I'm surprised in a good way as the club helped me and of course Cuadrado accepted it well." Ronaldo made a statement.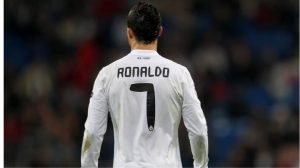 Cristiano holds the attendance record during presentation
Another Amazing things about Cristiano Ronaldo is his record of largest attendance. It was an extraordinary scene during the presentation of Cristiano Ronaldo at the Santiago Bernabeu on July 6th 2009. A date that his fans would never forget, the date when he was presented as a Real Madrid player. Fans had been gathering outside the stadium for much of the day in order to gain access to the brief ceremony. The Manchester United star gathered alone over 80,000 people in Madrid. He broke the record of Diego Maradona who was greeted by about 75,000 supporter of Napoli. Other players who are near Ronaldo's attendance record are Ibrahimovic with 60,000 and Neymar with 57,000.
"I am just so happy to be here," he said. "For me, I have made my childhood dream a reality, which was nothing less than playing for Real Madrid. I didn't expect a jam-packed stadium – this is truly impressive." A segment form Ronaldo's speech.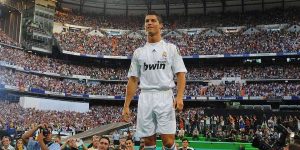 Love life of Ronaldo
As we all know, Cristiano is happily settled with his wife Georgina Rodriguez and has a well prospering family. But before settling with model Georgina Rodriguez, the football star linked to several glamorous women. Ronaldo had dated some of the hottest women in the past. Before Georgina, the footballer was linked to Russian supermodel Irina Shayk for five years. The pair were together from 2010 to 2015. The reason for their separation is not yet clarified but it is assumed that it was due to some differences of her girlfriend with her mother. Kim Kardashian, the supermodel had enjoyed an evening with Ronaldo back in 2010. They were reportedly seen kissing in Madrid where they were enjoying a short vacation. In 2007, the Indian Diva, Bipasha Basu was seen along with Cristiano Ronaldo and they were pictured smooching each other.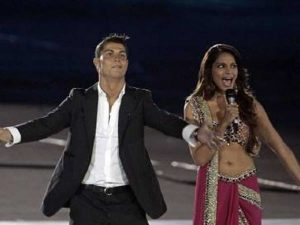 Cristiano: Man with big heart
After their tenth Champions League win, Ronaldo rewarded his teammate with personalized watches from luxury watch brand Bvlgari. Many fans have sprinted towards him during matches and most of the time he has taken photos, stopping security guards form dragging the supporter off the pitch. When Roanldo heard the story of 9-year old Nuhuzet Guillen, who had terminal cancer in 2009, he sent a driver to bring him and his family to the Real Madrid hotel. In 2015, Ronaldo reportedly donated 5 million to Save the Children's disaster relief fund after the Nepalese earthquake. Ronaldo also claimed to donate blood regularly. Ronaldo is an ambassador for three major charities – Save the Children, Unicef and World Vision.