Cristiano Ronaldo has a special relationship with Bugatti. The most famous footballer in the world has emerged as a face of the Bugatti brand. Their relationship started back in 2008, when Ronaldo was at Manchester United. Nike presented an outrageous advertisement in which Cristiano Ronaldo was seen racing a Bugatti Veyron.
Watch that famous advert by Nike where Ronaldo is match up with Bugatti Veyron for a pace test.
Cristiano Ronaldo played for Sporting Lisbon in the starting of his career. From there he moved to Manchester United and then to Real Madrid in 2009. He currently plays for Juventus FC where he has already set a few additional records. He is also the captain of the Portuguese National team and famously led the team to victory at the 2016 UEFA European Championships.
Cristiano has got an exceptional car collection inside his garage. By seeing his love for super cars, everyone knows that he is a massive car guy at heart. In his garage, he has a Phantom Rolls-Royce, Mercedes G Wagon, Lamborghini Aventador and Ferrari F430 and many others. But in his wide car collection, one can see his exceptional love for Bugatti.
Bugatti is a luxury car brand that we all wish we could afford. These are the supercars of our dreams, but there is more to this company than meets the eye. Founded by Ettore Bugatti in Molsheim, France, Bugatti has been pushing the boundaries of physics and engine capabilities in pursuit of speed since 1909.
Let's take a look at All Bugatti cars owned by Cristiano Ronaldo :
Bugatti Veyron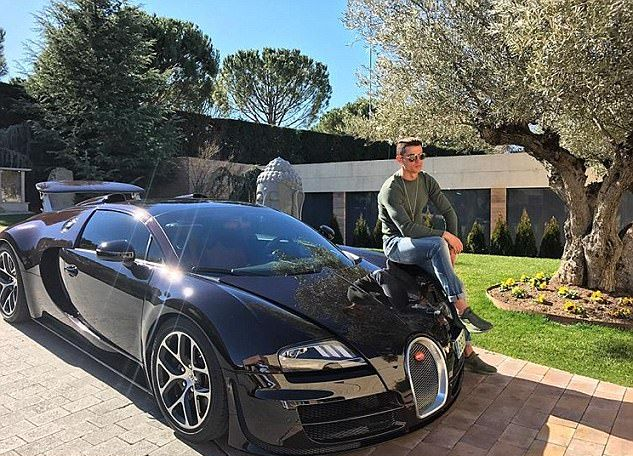 Bugatti Veyron, the first Bugatti to arrive in the collection of the Portugal skipper was this black Grand Sport Vitesse with contrasting orange interior. In 2016, Ronaldo bought this absolute beast and his first Bugatti for two reasons: First, to celebrate the Portugal's historic victory over France in the 2016 European Championship final and second, to fresh off his Champions League victory with Real Madrid.
Only 450 Bugatti Veyron 16.4 Grand Sports were built, so mighty Ronaldo also took a slice of that rarity pie. This supercar cost Ronaldo a whooping £1.7m. In terms of performance, it does 0-62 mph in 2.6 seconds, and has an outer skin completely made of carbon fibre. With a top speed in excess of 254mph, the car once held the official record as the fastest open-top production car in the world.
Bugatti Chiron
Bugatti Chiron is an ultra-exclusive hypercar which was the second addition to his love for Bugatti cars. In September 2017, Ronaldo made his 400th appearance for Real Madrid. He also scored his 410th and 411th goals for the Spanish club. To celebrate in style, Cristiano Ronaldo acquire a custom Bugatti Chiron for  $2.61 million.
Ronaldo posted the video with the following caption:
View this post on Instagram
"New animal in the building Bugatti Chiron"
The custom car has a two-tone silver and black finish with his trademark 'CR7' logo embossed on the headrests and painted on the side of the car.
The Chiron is a replacement of the Bugatti Veyron, which in itself was no slouch. The hypercar comes with a 8.0 litre quad turbo W16 engine, which delivers power to all four wheels. It accelerates to 100kmph in under 2.5 seconds, and is electronically limited to top speed of 420kmph. It has the largest clutch ever to have been fitted to a passenger car. Only 500 units of the Chiron will be manufactured, and can be customised as per the customers' requirements.
Watch promotional video of Bugatti Chiron featuring Cristiano Ronaldo :
Bugatti has released a new promotional video of the world's most powerful production car, the Chiron. Ronaldo's personal garage is apparently featured in this video, along with Le Mans-winning racing driver Andy Wallace.

Bugatti La Voiture Noire
La Voiture Noire, which literally means "the black car", was built to celebrate the company's 110th anniversary and its unveil at the Geneva Motor Show certainly caused a buzz among enthusiasts.
A large buzz was also there that Portugal's national footballer and Juventus star Cristiano Ronaldo has bought the world's most expensive car Bugatti La Voiture Noire after helping his club Juventus, win the 36th Serie A championship.
View this post on Instagram
It was rumored that Cristiano Ronaldo was the man behind the winning $12.5 million bid for the Bugatti La Voiture Noire—"The Black Car"—after the one-off hypercar debuted in March at the Geneva Motor Show. Bugatti executive Stephan Winkelmann did note that the vehicle had already been purchased at the time of its unveiling, but declined to reveal the identity of the purchaser.
However Ronaldo's spokesperson told TMZ, "The story isn't true. He has not bought it."
Bugatti Centodieci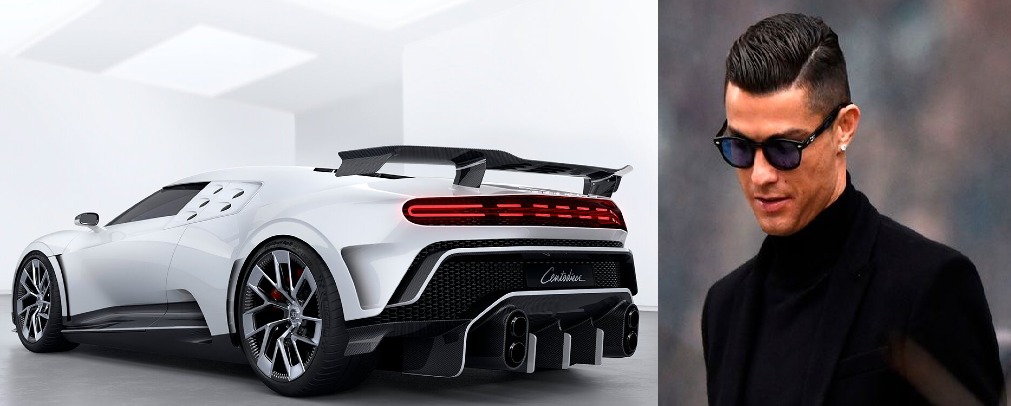 The latest entry in Cristiano's car collection is the £8.5 Million worth Bugatti Centodieci. To celebrate his 36th birthday and Juventus's ninth straight Serie A title, Cristiano Ronaldo gifted himself a limited-edition Bugatti Centodieci worth €8 million. It can go from 0-100 km/h in 2.4 seconds. He is one of the 10 lucky owners in the world who have been able to pre-book this supercar. The new car will live alongside his Chiron and other amazing cars in his garage.
This limited-edition hypercar is based on the Chiron, which Ronaldo already owns, but has a few key changes to make it a unique offering. All we know about it is it has an 8.0-litre quad-turbocharged engine and generates 1600PS. The Bugatti Centodieci also features stacked quad exhausts for a larger rear diffuser that increases downforce and on-road stability at speed.
However, Cristiano Ronaldo will have to wait his turn just like everyone else as deliveries won't start until 2021.