Cristiano Ronaldo grabbed headlines at his press conference when he pushed aside two bottles of Coke placed on the table before holding up a bottle of water. Multiple reports claimed that Ronaldo's disapproval of the drink resulted in a $4 billion fall in the market capitalization of the beverage giant. Although Ronaldo did a good thing by telling fans not to drink these beverages but there was a time when Ronaldo himself was endorsing soft drink Coca-Cola.
Although fans and fitness enthusiasts around the world applauded the move by the five-time Ballon d'Or winner, not everyone agreed. The Internet found an old advertisement where Ronaldo is endorsing Coca-Cola. The ad shows the Portuguese star superimposed on Coke cans branded in simplified Chinese and playing soccer with an ice cube in a fridge. It ends with an image of the Coca-Cola logo and the World Cup trophy.
Many football fans called him hypocrite for his act.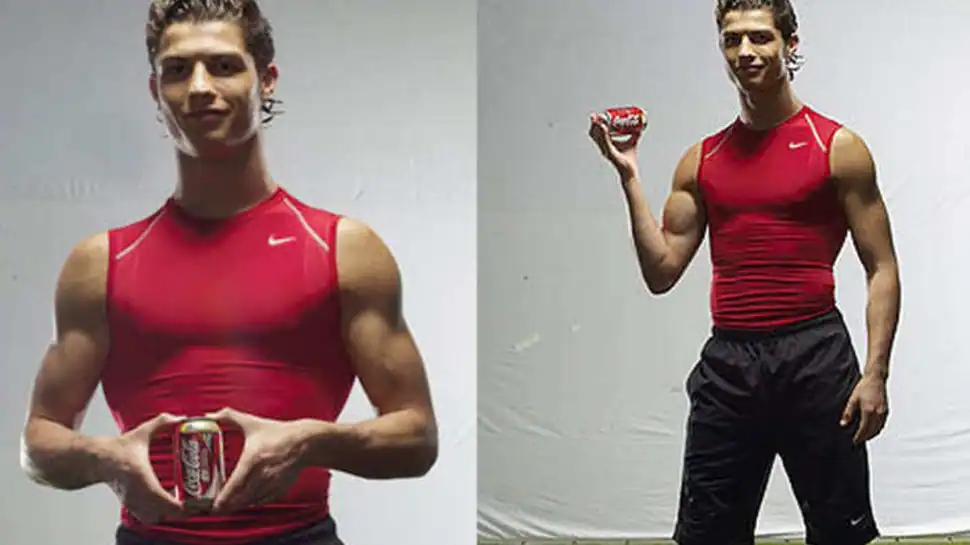 What happened at the Press Conference ?
In the press conference before Portugal's clash with Hungary, Cristiano Ronaldo  noticed that two bottles of Coca-Cola were there directly in front of him. The 36-year-old promptly removed the soft drinks from the view of the cameras and replaced them with a water bottle. Ronaldo held up his water bottle before setting it down and said 'Agua' – the Portuguese term for water.
Ronaldo was not the only footballer moving Coca-Cola bottles at #EURO2020! 🤣 pic.twitter.com/rUr8Hr15gh

— Goal (@goal) June 17, 2021
Was Ronaldo actually responsible for adverse effect on the Coca-Cola share price ?
Cristiano Ronaldo's disapproval of Coca-Cola during Monday's presser wasn't the reason behind the drink's drop in share price, as per a sports marketing expert. An advisor to Coca-Cola, claims that the downward trend of the stock began even before Ronaldo's disapproval of the drink. He explained investors aren't driven by what happens at press conferences and that the price of Coke was already on the downward trend before Ronaldo's swipe at the drink. Ronaldo's swipe at Coke was not to blame for the fall in share price, as it had already been falling before the press conference.