Cristiano Ronaldo is undoubtedly one of the greatest footballers of all time. Popularly known as CR7, he plays for Al Nassr in Saudi Arabia and represents the national side of Portugal. Ronaldo has been the most popular athlete in the world for close to two decades and has won almost everything he could win in his illustrious career. Cristiano is the most followed personality on Instagram and has a constant presence on social media. He regularly updates his social media accounts to give updates to his fans about his life and daily actions, be it with his several ventures or simply sharing snippets of his personal life. Football fans are excited to know about Cristiano Ronaldo Wife and Children.
See everything about Cristiano Ronaldo family, his wife and his children.  Georgina Rodriguez, Cristiano Jr., Eva and Mateo and Alana Martina. Cristiano Ronaldo children are also very famous among his fans. 
In a major setback, Cristiano Ronaldo announced that his son has died during childbirth. Ronaldo and his wife Georgina were expecting twins. But unfortunately, only the child's twin sister survived and now she is providing him and his partner Georgina Rodríguez with the strength "to live this moment". The 37-year-old posted this sad news on Instagram.
— Cristiano Ronaldo (@Cristiano) April 18, 2022
On 28th October, Ronaldo shared the news that he and his girlfriend Georgina Rodriguez are expecting twins. He posted a photo of him lying in bed with his wife Rodríguez. He was holding up ultrasound photos. The caption of the post was as follows:
"Delighted to announce we are expecting twins👶🏻👶🏻. Our hearts are full of love – we can't wait to meet you ❤️🏠 #blessed.
View this post on Instagram
Talking about his family, Cristiano has been protective of his family and loves them a lot. He also gives his fans many glimpses of his personal life, some loving moments with his wife and children on his social media channels. Apart from the field of football, Cristiano Ronaldo is also an ideal off the field, that is in his personal life. He is a perfect husband and father of four children. Cristiano Ronaldo Wife and Children are also very famous due to him.
Georgina Rodriguez and Cristiano Ronaldo first met in 2016 while Georgina was working as a sales assistant at a Gucci store in Madrid. They made their relationship public in 2017 and have since had a daughter together, named Alana Martina.
Georgina is also a stepmother to Ronaldo's three children from previous relationships: Cristiano Jr., and twins Eva and Mateo. She has been a constant source of support for Ronaldo, often seen cheering him on at his games and accompanying him to various events.
The couple has been known to share their love for each other on social media, often posting pictures and videos of their family and adventures together. They have also been involved in various charitable causes, including donating money to help fund a children's hospital in Portugal.
Cristiano Ronaldo Wife : GEORGINA RODRIGUEZ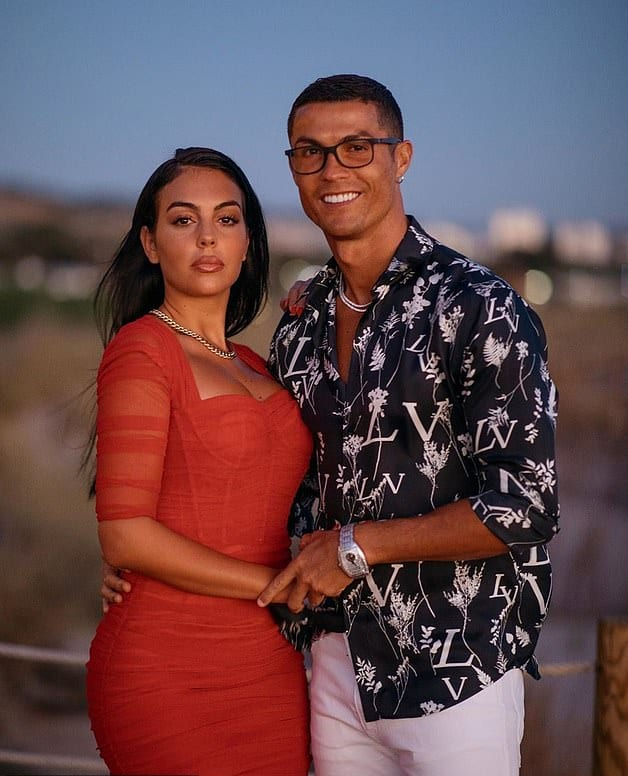 Cristiano has dated several high-profile ladies in the past, from Kim Kardashian to Indian actress Bipasha Basu and most notably Russian model Irina Shayk. At present, the Juventus superstar is in a relationship with Spanish model Georgina Rodriguez. Georgina and Ronaldo have been together since 2016. She has been by the side of superstar footballer Cristiano Ronaldo for almost five years.
Georgina Rodriguez was born on January 27, 1994, in Jaca, Spain. She was born to a Spanish mum and Argentine dad. She grew up in Jaca, a city in north eastern Spain and part of the province of Huesca, near the Pyrenees. Georgina learned dance before changing careers to modelling after studying English in London. It has been found that her father Jorge Rodriguez is a convicted cocaine trafficker spent ten years in jail. Georgina met Cristiano for the first time in 2016 when she was working at a Gucci store in Madrid.
"Days later we saw each other again at another brand's event and it was then we could talk in a relaxed atmosphere, outside of my work environment. It was love at first sight for both." Georgina said.
Cristiano Ronaldo Children : CRISTIANO JR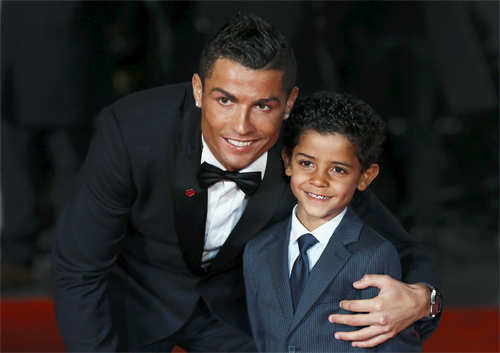 Cristiano Ronaldo became a father at the age of 25. At that time, Ronaldo was dating  model Irina Shayk. Cristiano Ronaldo Jr., was born on June 17, 2010, in the San Diego United States. He was born to a surrogate mother who reportedly made Ronaldo the child's sole guardian. Ronaldo's oldest son is known as Cristianinho, or Cristiano Jr.
"It is with great joy and emotion that I inform I have recently become father to a baby boy. As agreed with the baby's mother, who prefers to have her identity kept confidential, my son will be under my exclusive guardianship," Cristiano Ronaldo explained in a statement back in 2010.
Cristiano Ronaldo Jr is currently playing for youth team of Juventus and is already impressing with his footballing skills. The kid has been an important part of Ronaldo's life. He has often seen collecting awards alongside Cristiano and starring in his CR7 clothing line ads.
Cristiano Ronaldo Children : EVA and MATEO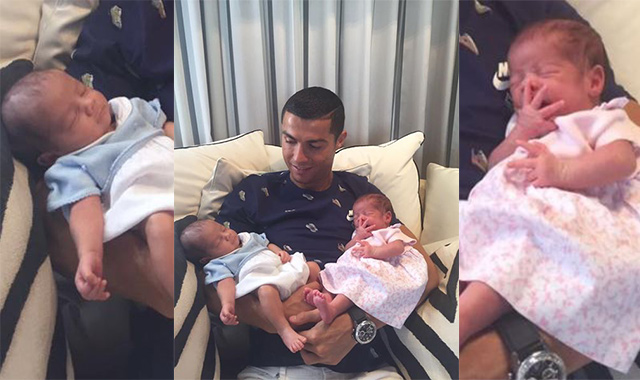 For seven years, Ronaldo only had one son, Cristiano Ronaldo Jr. He went from one child to four in five months and Cristiano has said that he wanted another three to hit the "magic number" 7.
In 2017, Ronaldo was blessed by twins – Eva and Mateo – The twins were born via surrogacy in the United States. They were born on June 8, 2017. Like at the time of his first son, Ronaldo once again kept the details of their mother confidential. Although, it was reported from different sources that the mother is an American citizen.
Cristiano Ronaldo Children : ALANA MARTINA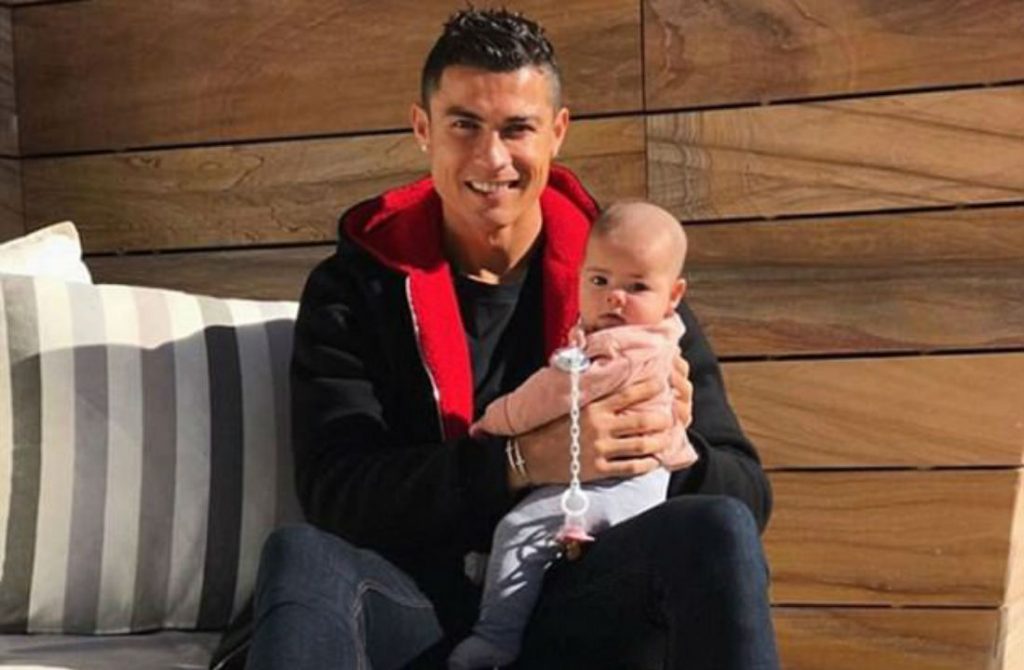 In the same year, when Cristiano was blessed by twin, Eva and Mateo, Ronaldo's girlfriend, Georgina Rodriguez, gave birth to daughter on November 12. The family named that daughter Alana Martina.
Ronaldo shared the news by posting a photo of himself, Georgina, the newborn and then 7-year-old Cristiano Jr.
"We both chose the name. Cristiano chose Alana and I chose Martina, We decided to give her both names that each of us chose. We thought it was even more special." Georgina said.
Cristiano Ronaldo Children : Bella Esmeralda
Bella Esmeralda is the youngest daughter of Cristiano Ronaldo. She was born to his current partner Georgina Rodriguez. Cristiano announced that he and his partner Georgina Rodriguez were expecting twins. Unfortunately, the another kid failed to survive and died during childbirth.
Cristiano Ronaldo Family Photos Gallery