See everything about Lionel Messi family, his wife and his children. Antonella Roccuzzo, Thiago Messi, Mateo Messi and Ciro Messi. Lionel Messi is considered as one of the greatest footballers of all time. Messi is a finding of Barcelona's famed La Masia academy. He has impressed the world with his speed, creativity, range of passing, killer instinct in front of goal, and extraordinary footballing skills. He also comes under the category of most famous athletes, just behind his rival Cristiano Ronaldo. Messi has a lot of fans on his social media accounts. He also shares precious moments with his fans on his account.
Lionel Messi has a perfect and loving family. He married his childhood girlfriend in 2017. Messi has marked himself as an exemplary idol with successful relationship and career. The couple is blessed with three children. Messi's fans are excited to see his kids in football field just like their dad. Lionel Messi Children are also very cute and adorable.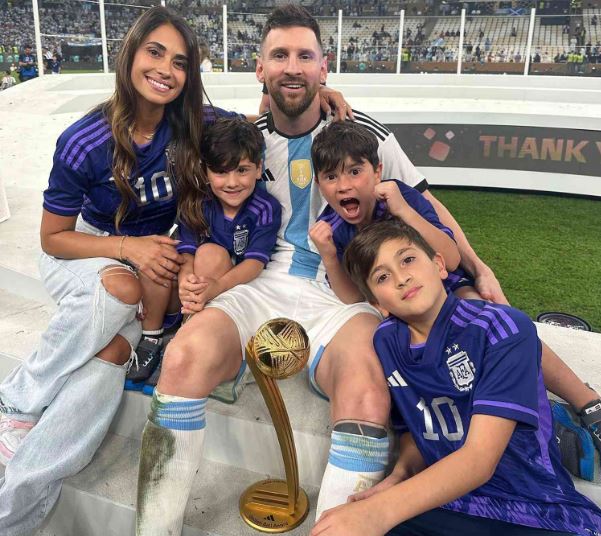 Winning the FIFA World Cup with Argentina was undoubtedly the best moment of Lionel Messi's career. His three sons, Thiago, Mateo and Ciro, along with his wife Antonela Roccuzzo were also there with him to support Messi in this World Cup campaign. Messi's wife and kids were cheering him from the stands in every match.
The couple has been together for over a decade, and their relationship seems to be strong and supportive. They have three children together, and Messi often speaks publicly about his love and admiration for his wife.
Antonella is also a constant presence in Messi's life, often seen supporting him at games and events, and sharing photos of their family on social media. They have been through ups and downs together, including Messi's legal troubles with the Spanish tax authorities, but they have always supported each other through it all.
Overall, Messi and Antonella's relationship appears to be a strong and loving partnership built on a foundation of friendship and trust.
Lionel Messi Wife – ANTONELLA ROCCUZZO
Behind every great man is an equally great woman, and in the case of football superstar Lionel Messi, that woman is his wife, Antonela Roccuzzo. Antonela has been a constant presence in Messi's life, offering unwavering support, love, and stability throughout his remarkable career. Her impact on his life and career cannot be overstated.
On June 30, 2017, Messi married Antonella Roccuzzo, his longtime girlfriend and the cousin of his best friend and fellow soccer player Lucas Scaglia. Their marriage, a civil ceremony dubbed by Argentina's Clarín newspaper as the "wedding of the century," was held at a luxury hotel in Rosario, with a number of fellow star soccer players.
Antonella Roccuzzo was born on February 26, 1988 in Santa Fe, Argentinean province. Their family lived 5 minutes walk from Jorge and Celia Messi. Since 5 years old Antonella's brother played with small Lionel. It was he, who introduced Lionel to small Antonella. Messi moved with his father to Spain to play for FC Barcelona at the age of 13. Antonella graduated from school and entered the National University of Rosario, where she studied dietetics.
Messi and Roccuzzo have been living happy and are blessed with three children together: Thiago, born in November 2012, Mateo, born in September 2015 and Ciro, born in March 2018.
While Messi's fame skyrocketed as he rose to become one of the greatest footballers of all time, Antonela remained grounded and focused on maintaining a stable family life for their three children, Thiago, Mateo, and Ciro. Despite the intense media scrutiny and public attention, she has managed to keep a low profile, preferring a quiet life away from the spotlight.
Lionel Messi Children – THIAGO MESSI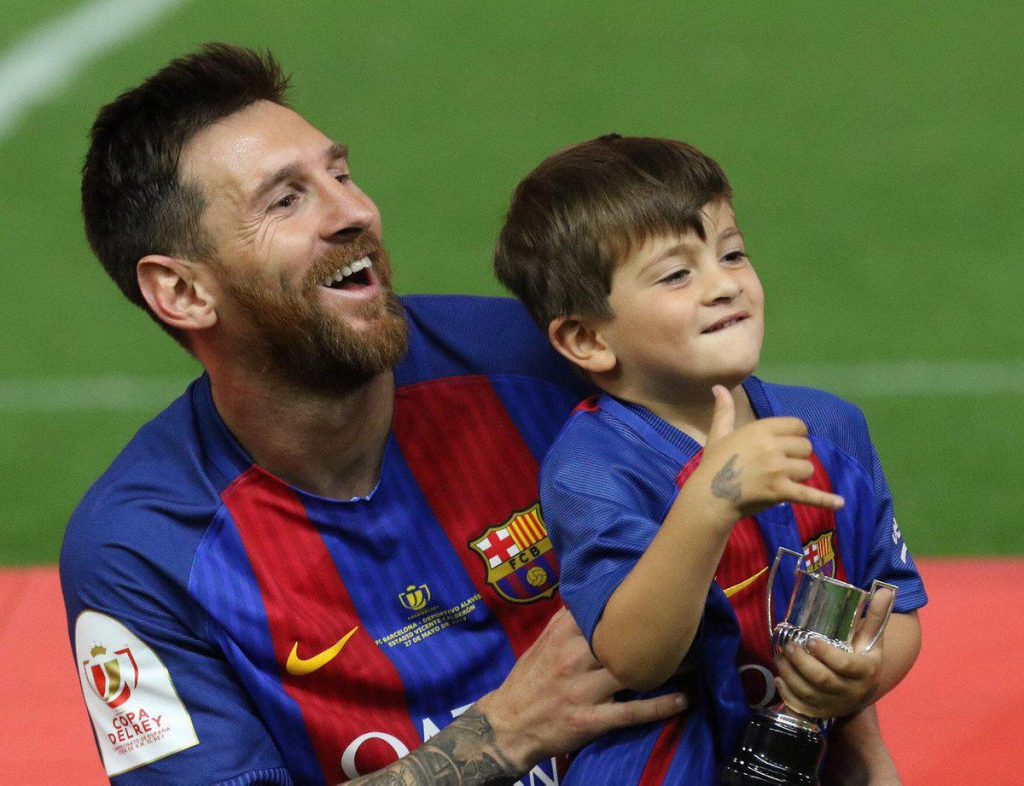 Thiago Messi was born on November 2, 2012. He is the eldest son of Lionel Messi. He was born in Dexeus hospital in Spain. After that Leo opened up in his interview that becoming a father turned to be the sweetest thing in his life.
Messi announced his girlfriend's Antonella Roccuzzo first pregnancy by placing the ball under his shirt after scoring in Argentina's 4-0 win against Ecuador.
The first son of one of the most talented soccer players in the world is also popular among the fans of Messi. Messi takes the boy to school every morning and then picks him up. Leo has also shared videos of paying soccer with Thiago on his social media. Thiago has already started to visit soccer training. Fans want him to follow his father's pace.
Lionel Messi Children – MATEO MESSI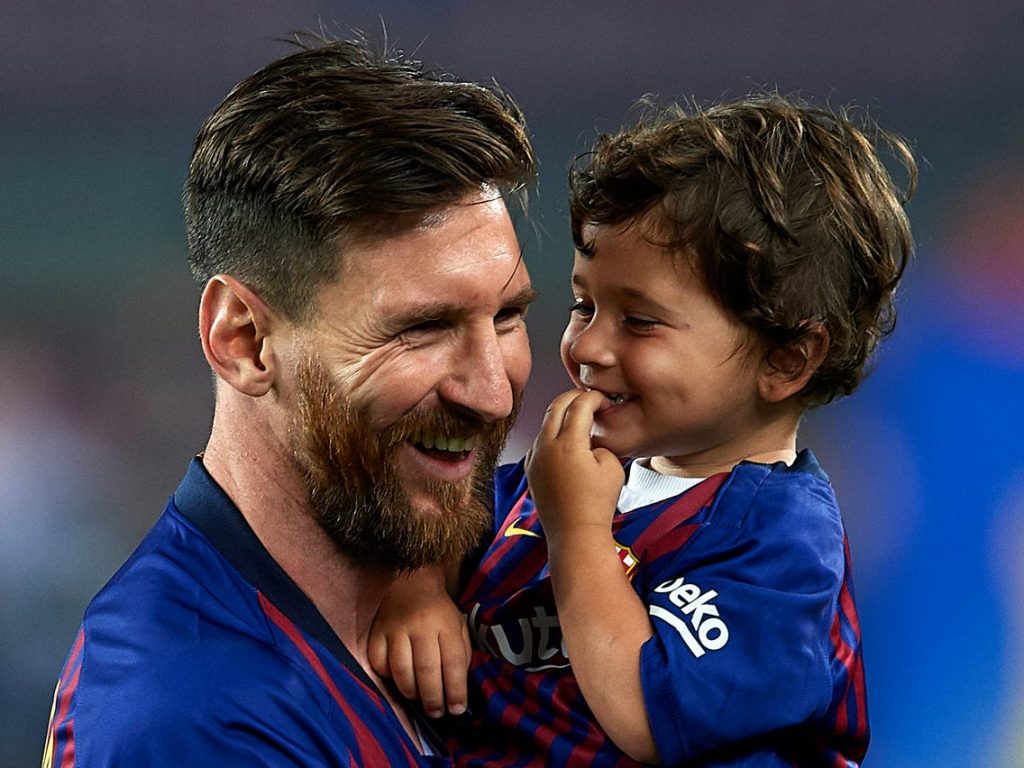 Mateo Messi was born on September 11, 2015 in a picturesque city of Barcelona.
Mateo Messi is quite famous among Barcelona fans. He has many a times attracted everyone's attention with his jokes. Mateo sometimes celebrates Barca opponents' goals and cheers against his father just for fun. Leo Messi has also revealed that Mateo loves calling him by the full name, copying the fans. Mateo often taunts his older brother by celebrating Real Madrid's goals
Mateo also has started to play football with his father and older brother.
Lionel Messi Children – CIRO MESSI
Ciro Messi was born on March 10, 2018. The baby boy was born in Spain too. Three months after their wedding, the couple announced that they were expecting their third child. Messi and his wife Antonella Roccuzzo announced the birth of their son, Ciro, with a message and picture on Instagram. Ciro is the only son, who was born after their marriage. His full name is CIRO MESSI Roccuzzo.
In Greek, the meaning of the name Ciro is sun or lordly and in Spanish also, the meaning is a bit similar which is throne or sun. In the beginning he was not present in the photos shared by his parents on social media because he was too young. In a video shared by Messi, Ciro was seen 'helping' his father to complete his individual exercises.
View this post on Instagram
Lionel Messi Family Photos Gallery
In interviews, Messi often speaks fondly of his wife, acknowledging the profound impact she has had on his life. Her unwavering support and belief in him have been crucial during both triumphant and challenging times. Antonela is not just a loving partner but also Messi's confidante and closest ally.
As Lionel Messi's career continues to unfold, Antonela Roccuzzo remains a constant pillar of support. Her presence reminds us that behind the glitz and glamour of the football world, there is a strong and loving relationship that serves as the foundation for success.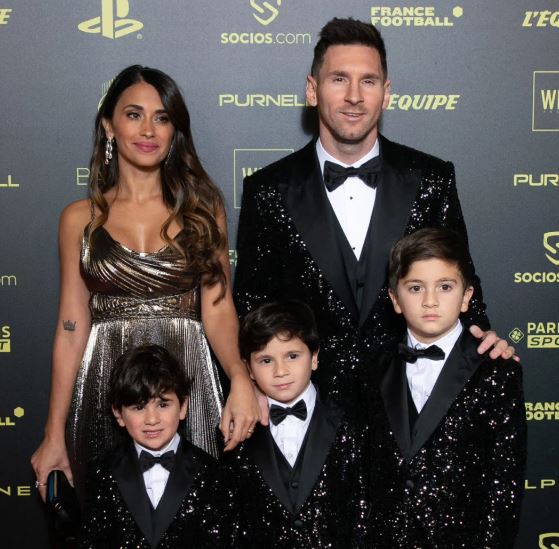 In conclusion, Antonela Roccuzzo is more than just Lionel Messi's wife; she is a remarkable woman in her own right. Her love, support, and dedication have played a vital role in Messi's rise to greatness. As he continues to shine on the football field, Antonela will undoubtedly continue to be his anchor, guiding him through the highs and lows of life. Their love story is a testament to the power of a strong partnership and serves as an inspiration to us all.
Cristiano Ronaldo Family : Wife and Children
Also Read: Who is Lionel Messi's best friend?