Tokyo 2020 Olympics is all set to start in July. Due to Covid-19 it was postponed in last year. The officials decided to go with name Tokyo 2020 and not 2021 due to brand issues. The big highlight of the tournament will be Men's Football Tournament at Olympics. The men's Olympic football tournament of the Tokyo 2020 Olympics Games is scheduled to take place from 22 July to 7 August 2021. It will be held across six Japanese cities. The national teams participating will be comprising of youth players. Each country is allowed to include  three overage players in their squad. In this article, we have given Tokyo 2020 Olympics Football Schedule, Fixtures, Groups.
Brazil Football Squad for Tokyo 2020 Olympics
Many footballers who are ruling football now have taken to the football stages of the Olympic Games. The most popular names includes gold-medal winners Lionel Messi and Neymar.
Tokyo 2020 Olympics Football Teams
The following 16 teams will compete in Men's Football Tournament at Tokyo 2020 Olympics.
Japan
South Africa
Mexico
France
New Zealand
Korea Republic
Honduras
Romania
Egypt
Spain
Argentina
Australia
Brazil
Germany
Côte d'Ivoire,
Saudi Arabia
Tokyo 2020 Olympics Football Groups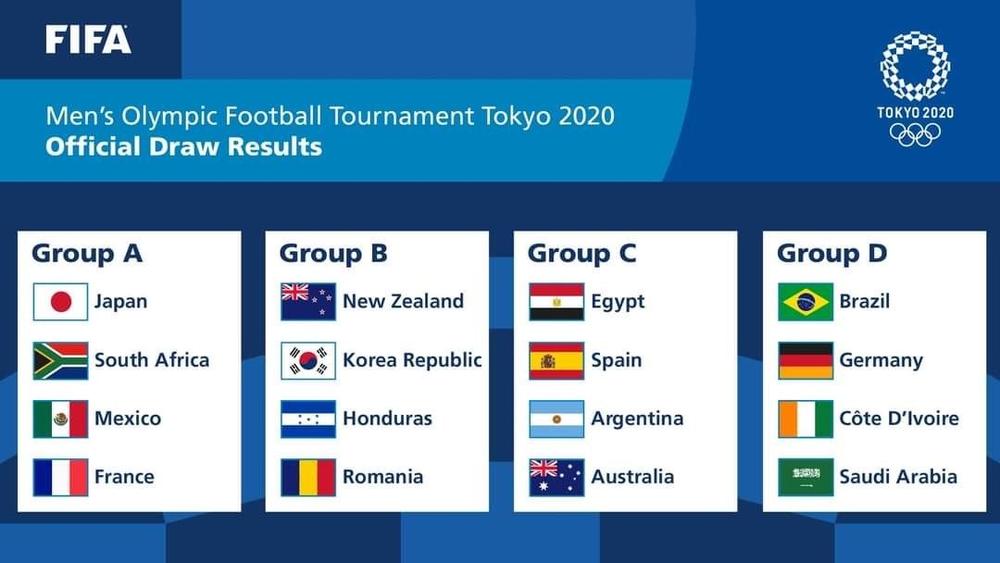 Group B: New Zealand, Korea Republic, Honduras, Romania.
Group C: Egypt, Spain, Argentina, Australia.
Group D: Brazil, Germany, Côte d'Ivoire, Saudi Arabia.
Tokyo 2020 Olympics Football Format
The top two nations from each group will be qualified to the knockout rounds. From the quarter-finals stage, the winners will proceed to to the semifinals. The winners of semifinals will then contest the final. The two losing semifinalists will play for bronze and a place on the podium.
Tokyo 2020 Olympics Football Schedule, Fixtures and Venue
Date and Time: Thu 22 July 16:30 – 21:30
Venues: Sapporo Dome
Men's Group C, Egypt vs Spain
Men's Group C, Argentina vs Australia
Date and Time: Thu 22 July 17:00 – 22:00
Venues: Tokyo Stadium
Men's Group A, Mexico vs France
Men's Group A, Japan vs South Africa
Date and Time: Thu 22 July 17:00 – 22:00
Venues: Ibaraki Kashima Stadium
Men's Group B, New Zealand vs Republic of Korea
Men's Group B, Honduras vs Romania
Date and Time: Thu 22 July 17:30 – 22:30
Venues: International Stadium Yokohama
Men's Group D, Côte d'Ivoire vs Saudi Arabia
Men's Group D, Brazil vs Germany
Date and Time: Sun 25 July 16:30 – 21:30
Venues: Sapporo Dome
Men's Group C, Egypt vs Argentina
Men's Group C, Australia vs Spain
Date and Time: Sun 25 July 17:00 – 22:00
Venues: Ibaraki Kashima Stadium
Men's Group B, New Zealand vs Honduras
Men's Group B, Romania vs Republic of Korea
Date and Time: Sun 25 July 17:00 – 22:00
Venues: Saitama Stadium
Men's Group A, France vs South Africa
Men's Group A, Japan vs Mexico
Date and Time: Sun 25 July 17:30 – 22:30
Venues: International Stadium Yokohama
Men's Group D, Brazil vs Côte d'Ivoire
Men's Group D, Saudi Arabia vs Germany
Date and Time: Wed 28 July 17:30 – 22:30
Venues: Sapporo Dome
Men's Group B, Romania vs New Zealand
Men's Group A, South Africa vs Mexico
Date and Time: Wed 28 July 17:00 – 22:00
Venues: Miyagi Stadium
Men's Group D, Germany vs Côte d'Ivoire
Men's Group C, Australia vs Egypt
Date and Time: Wed 28 July 17:00 – 22:00
Venues: Saitama Stadium
Men's Group D, Saudi Arabia vs Brazil
Men's Group C, Spain vs Argentina
Date and Time: Wed 28 July 17:30 – 22:30
Venues: International Stadium Yokohama
Men's Group B, Republic of Korea vs Honduras
Men's Group A, France vs Japan
Date and Time: Sat 31 July 17:00 – 20:00
Venues: Miyagi Stadium
Men's Quarterfinal
Date and Time: Sat 31 July 18:00 – 21:00
Venues: Ibaraki Kashima Stadium
Men's Quarterfinal
Date and Time: Sat 31 July 19:00 – 22:00
Venues: Saitama Stadium
Men's Quarterfinal
Date and Time: Sat 31 July 20:00 – 23:00
Venues: International Stadium Yokohama
Men's Quarterfinal
Date and Time: Tue 3 Aug. 17:00 – 20:00
Venues: Ibaraki Kashima Stadium
Men's Semifinal
Date and Time: Tue 3 Aug. 20:00 – 23:00
Venues: Saitama Stadium
Men's Semifinal
Date and Time: Fri 6 Aug. 20:00 – 23:00
Venues: Saitama Stadium
Men's Bronze Medal Match
Date and Time: Sat 7 Aug. 20:30 – 23:30
Venues: International Stadium Yokohama
Men's Gold Medal Match
Men's Victory Ceremony