Toni Kroos and Mason Mount have been indulged in a comment war over each other. Their comments have caused a bit of a stir and are trending on Twitter.
Chelsea defeated Real Madrid 3-1 on aggregate in the semi-finals of UEFA Champions League 2021. In the first leg, the final score was 1-1. In the second leg, Chelsea beat Real Madrid 2-0 and knocked them out of the Champions League.
Apart from the clash of Chelsea and Real Madrid, Toni Kroos and Mason Mount have hit out each other over their comments. We will explain what the matter is all about.
What does Toni Kroos said about Chelsea ?
In his pre-match press conference of Chelsea and Real Madrid, midfielder Toni Kroos said the following:
"In my 15 years playing football, I never lost sleep. They showed in Madrid (in the first leg) that they play as a team. They have a German coach so that doesn't surprise me. They defend well and have pace up front, those are their strengths."
What does Mason Mount said about Toni Kroos ?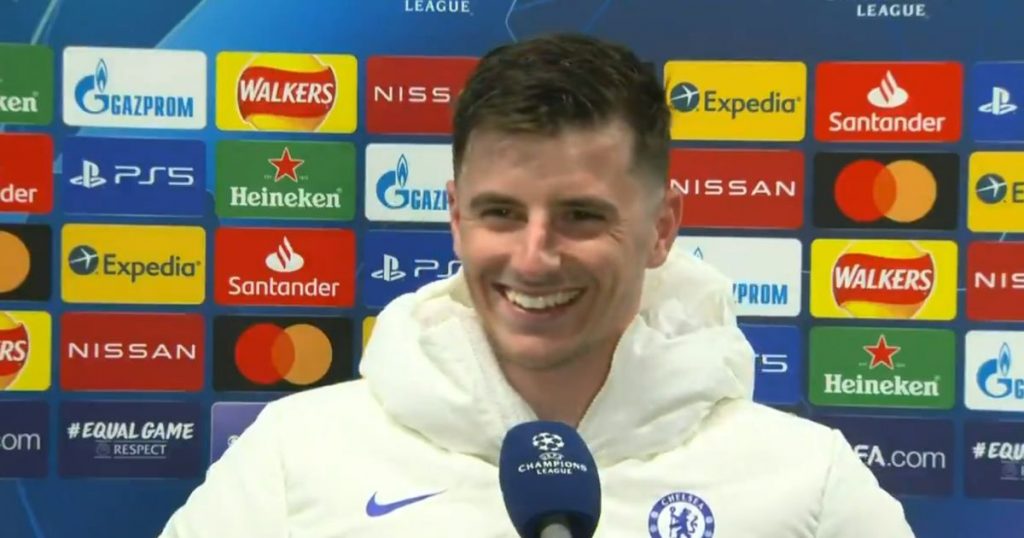 Mason Mount scored Chelsea's second goal against Real Madrid in the second leg. In the post match conference, he decided to reply to the comments of Toni Kroos. He said the following:
"I saw one of their players say before that he doesn't lose sleep over individuals. But as a team, they need to lose sleep over us as a team. We give so much, we defend for our lives. You saw that in not many chances that we gave away. We are solid and we need to keep that going."
How did Toni Kroos responded to Mason Mount's comment on Twitter ?
Toni Kroos responded to the comments made by Mason Mount on Twitter.
"Still sleeping ok. But well done yesterday. congrats. Good luck in your first CL final," Kroos tweeted.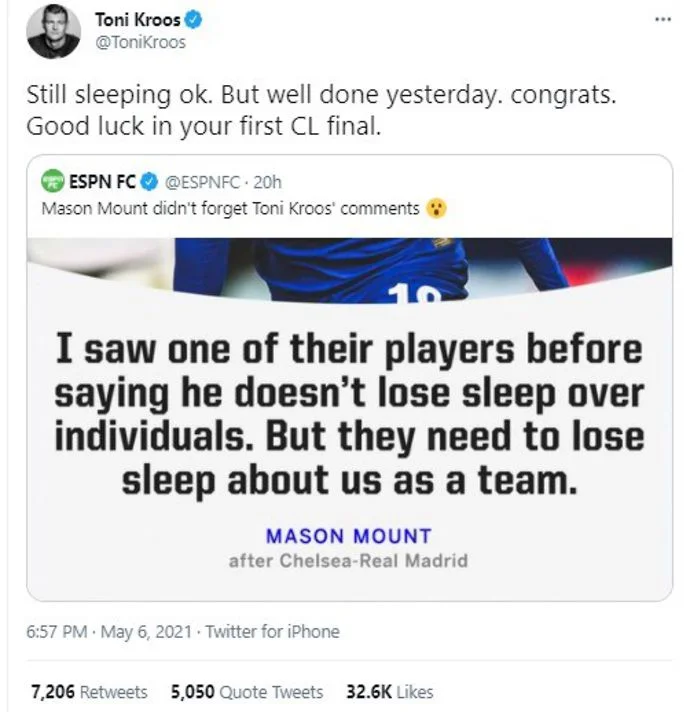 However, many football fans called Toni Kroos arrogant over his jibe at Mason Mount. They also criticized him for being too harsh over a youngster who has started his career only 2 years ago. Some also said that Kroos is frustrated with his defeat and should accept the lose. Toni Kroos has won 4 Champions League titles till now. He won 3 with Real Madrid and 1 with Bayern Munich.
Chelsea will now face their Premier League rivals Manchester City in the finals of UEFA Champions League on Saturday, 29 May.