Since the starting of new season of Premier League 2021, Paul Pogba has been delivering some sensational performance displays for United. Ole Gunnar Solskjaer is also delighted with the midfielder's display. Pogba is fan's favorite as well as United's record signing and if he could produce this quality of play for the Red Devils each week, then the team will definitely come in the contention of league winners. But that is the problem, Pogba is unable to perform on a consistent basis at Old Trafford. It is a matter of debate for fans and experts as to why Pogba plays so differently for France than for United.
Why Paul Pogba plays better for France than Manchester United?
The reason behind the disparity in performance of Paul Pogba for France and Manchester United is his playing position and team-mates.
Let's talk about his playing position first.
Paul Pogba gave the following statement when asked about his playing postion:
"We were already playing with three midfielders [at Juventus], in 5-3-2. I had the freedom, I had to be in the box, to attack. It was an obligation. In Manchester, I have the freedom to enter the box, but the priority is to play and to defend. We (France) play in 4-2-3-1, also a diamond. I am a little more in the transmission, in the construction. But I have more freedom than in Manchester to enter the box, to make runs forwards. At the same time, when you have Griezmann and Kylian, you don't want to enter their spaces, you don't need to."
If you are a regular viewer of Untied's fixtures then you must be aware of the fact that some of Pogba's best performances for United last season came when he was playing forward and was deployed on the left-hand side of either midfield or attack. Solskjaer is also aware of the fact that Pogba prefers to play further up the pitch, but allowing Pogba to do so does not always fit with his preferred system.
Paul Pogba is played too deep by Solskjaer at Manchester United. He is more comfortable in holding midfield role than that of a defensive one. Deschamps , the France manager believes in giving a liberal role to the midfielder and feels that it suits Pogba's style of play. The French manager has given Pogba the freedom to adjust his position during a match.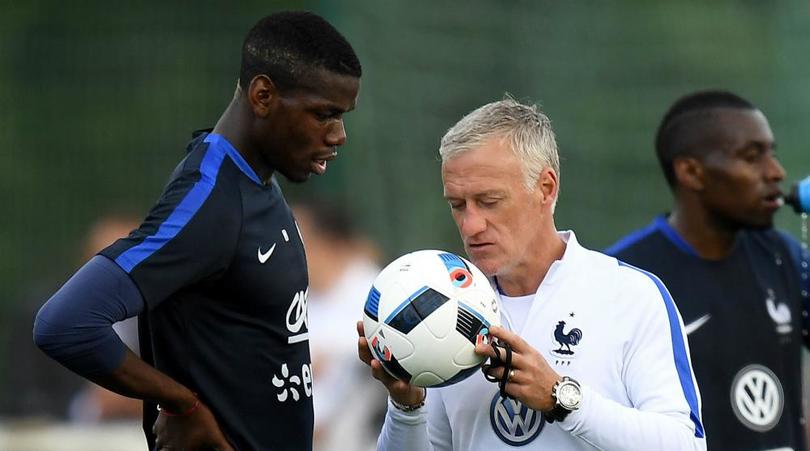 He said the following about Paul Pogba:
"Listen, Paul is a complete midfielder. He has so many qualities – he can pass vertically, diagonally, all of this is part of his game. Then, of course, we work on the positioning, but it's not only about playing good passes, it's also about the positioning before the pass. His role is quite liberal, he's not limited in the offensive approach. If there's a need, he can also go back to win the ball behind, but on the pitch sometimes he can play a little bit higher or lower. His position can also develop between the left and right side, it just depends on the positioning of the other players."
Another reason is his teammates. One of the key differences between Manchester United and France is Pogba's team-mates.
Scott McTominay has quite improved after his promotion to the first team. There are the likes of Mata, Van De Beek, Fred, Nemanja Matic but it is very clear that none of them is near the level of N'Golo Kante. Kante provides a kind of freedom and security to Pogba to proceed further and the Chelsea midfielder himself dictates games from midfield. His partnership with teammate N'Golo Kante offers everything a manager could ask for.
In France, there is less pressure on Pogba. He is one of the key players in French squad but he knows that he is surrounded with players who are capable of providing magic moments if he is not at the top of his game.