FIFA World Cup 2022 is just another golden opportunity for both Lionel Messi and Argentina Football Team. Argentina World Cup 2022 Squad is filled with amazing talent and experience, they are among the top contenders to win this tournament. Fans are excited to know Argentina Line up in World Cup 2022.
Argentina are one of the favorites to win World Cup 2022. The sole reason behind that is Lionel Messi. Messi has won a lot of trophies in his football career but he has not been able to win the World Cup with Argentina. Having won everything for Barcelona, Messi, the record-breaking forward is now desperate to add the most coveted trophy in national colours to his cabinet. Messi has lost a World Cup Final and two Copa America Finals with Argentina. This tournament could add an international trophy to Messi's trophies cabinet.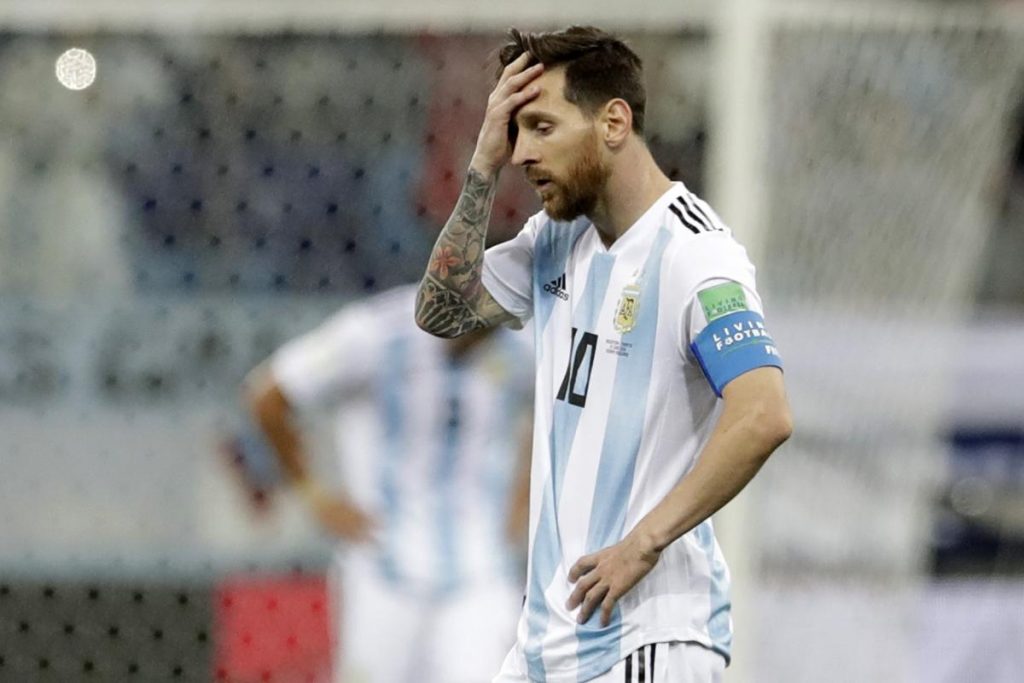 Argentina Squad for World Cup 2022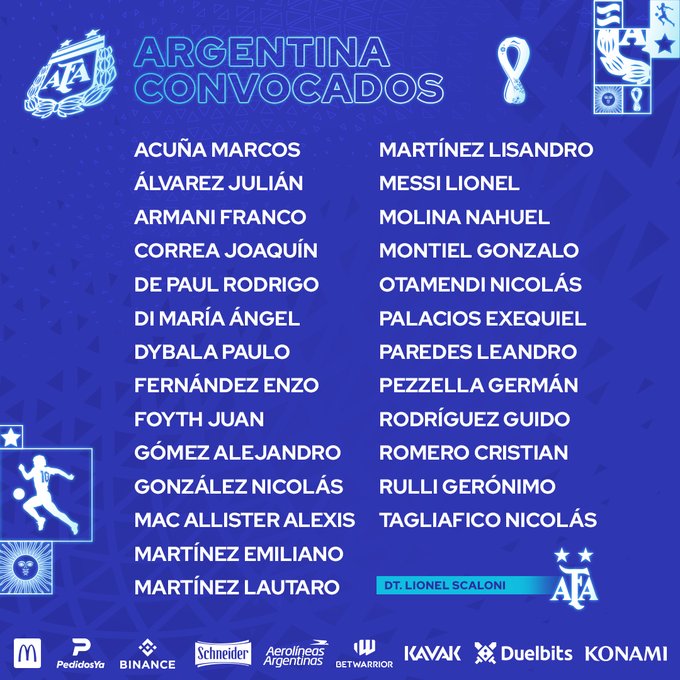 Goalkeepers: Emiliano Martinez (Asotn Villa) Geronimo Rulli (Villarreal), Franco Armani (River Plate).
Defenders: Nahule Molina (Atlético Madrid), Gonzalo Montiel (Sevilla), Cristian Romero (Tottenham), German Pezzella (Real Betis), Nicolas Otamendi (Benfica), Lisandro Martinez (Manchester United), Marcos Acuna (Sevilla), Nicolas Tagliafico (Lyon), Juan Foyth (Villarreal).
Midfielders: Rodrigo de Paul (Atletico Madrid), Leandro Paredes (Juventus), Alexis mac Allister (Brighton), Guido Rodriguez (Real Betis), Alejandro Gomez (Sevilla), Enzo Fernandez (Benfica), Exequiel Palacios (Bayer Leverkusen).
Forwards: Angel di Maria (Juventus), Lautaro Martinez (Inter Milan), Juilan Alvarez (Manchester City), Nicolas Gonazales (Fiorentina), Joaquin Correa (Inter Milan), Paulo Dybala (AS Roma), Lionel Messi (PSG).
Argentina World Cup 2022 Lineup – 3 Best Formations
The Argentina Squad for World Cup 2022 is filed with young talents as well  as experienced and versatile players. Their squad depth is also very amazing and the coach has different options for almost every position. Fans are excited to know the Argentina World Cup 2022 Lineup. Here are the 3 Best Possible Starting Lineups for Argentina which the coach might go with :
Argentina World Cup 2022 Lineup (4-3-1-2)
With the inclusion of Paulo Dybala in the Argentina Squad for World Cup 2022, coach Lionel Scaloni will most probably choose Dybala in the starting Argentina Line up. There are several reasons behind the inclusion of World Cup 2022 in the starting lineup. He has a good link up with Lionel Messi, he is a versatile player with tremendous experience and he will fit in two strikers formation along with Lautaro Marinez.
In the past few years, Messi has taken the role of a central midfielder rather than being a winger. Therefore, the coach might deployed him as the central attacking midfielder in the lineup. Celso and Paredes have been regular starters of Argentina for the past few years, therefore they are likely to get a place in the starting Argentina Line up.
At the back, coach might select Marcus Acuna for his experience rather than Nicolas Tagliafico talent. Otamendi is likely to get the command of Argentina's defence. At the right back position, Juan Foyth is a permanent player of Argentina Squad for World Cup 2022.
Argentina World Cup 2022 Lineup (4-4-2)
Another possible option for Lionel Scaloni is to play with 4-4-2 formation. The manager has already shown his preferred lineup in the World Cup Qualifier match against Chile. Lionel Messi and Lautaro Martinez can play as two strikers in the team and their combination can be deadly to any opposition.
Another reason to choose this formation is Marcus Acuna. He can play as a left back as well as wing back. In the last few matches also, coach has used Acuna as midfielder. So, we can also see the formation being changed to 3-4-3 with Acuna on the left wing. With the presence of Nicolas Tagliafico in Argentina Squad for World Cup 2022, it makes more easy for this formation.
Di Maria is a player who is capable of playing at many positions, but seeing his past records every fan knows that he is most lethal at right midfielder position. He has the ability to create some amazing chances for forwards with his footwork. Maria is left footed which makes him even more suitable at right wing in the Argentina Line up.
Argentina World Cup 2022 Lineup (4-2-3-1)
This formation is least likely to be chosen by Lionel Scaloni. Although it also provides the team strength and depth to attack and defend at the same time. Argentina is a team with great squad which is backed by talent and experience. But then also they have not been able to win any major international tournament in the past few years. So there is need to change something.
Argentina Squad for World Cup 2022 has also many options for forwards. The coach has been playing with just too many strikers in the Argentina Line up. You can also notice that in the previous world cup also, they were playing with the likes of Aguero, Messi, Dybala and Icardi.
Argentina need to change their tactics and move to a little more defensive side. This lineup with two defending midfielders will be perfect for them. It will also give Lionel Messi the chance to play in midfield as well as in attack. However it will be a difficult choice to choose between Acuna and Tagliafico for a starting place in Argentina Line up.
The final Argentina World Cup 2022 Lineup will be revealed once the tournament starts. Tell us your favorite Argentina Line up.