The Portugal squad for Euro 2020 is a significantly stronger squad than they had when they won first-ever major trophy in 2016. They have the best attacking options along with France and England. Diogo Jota, Andre Silva, Joao Felix, Bruno Fernandes, Bernardo Silva and Cristiano Ronaldo are the forward playing options for coach. Their squad is loaded with players who can support Ronaldo and make Portugal a contender again. The performance of Portugal in Euro 2020 will depend on coach Fernando Santos ability to choose the best attacking option for starting lineup. It will be exciting to see the Portugal EURO 2020 Lineup. In this article, we have mentioned three best Portugal probable lineup for Euro.
Cristiano Ronaldo, one of the greatest players of this generation, will lead the Portugal's forward line while also captaining the Portugal squad for Euro 2020. He is barely showing any signs of slowing down at 36.
Portugal Euro 2020 squad and probable lineup
Fernando Santos took over the management of squad in 2014 following Portugal's poor World Cup display. The 66-year-old will go down in history, as he led Portugal to their first major trophy at Euro 2016. Santos also followed that up with another victory in the UEFA Nations League in 2019, making him the nation's most successful manager.
Portugal Squad for Euro 2020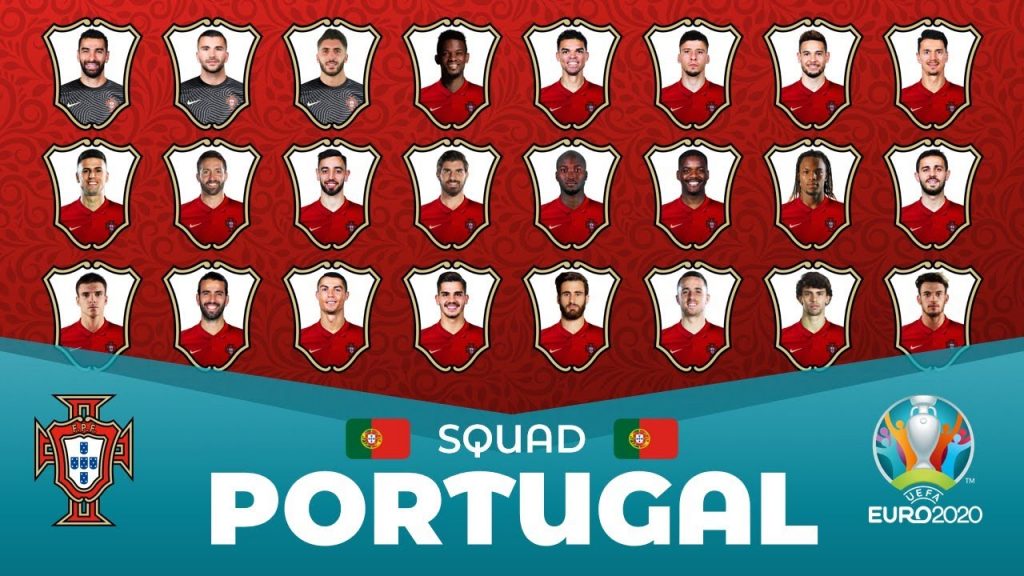 Goalkeepers (3): Rui Patricio (Wolves/ENG), Anthony Lopes (Lyon/FRA), Rui Silva (Grenada/ESP)
Defenders (7): Joao Cancelo (Manchester City/ENG), Nelson Semedo (Wolves/ENG), Jose Fonte (Lille/FRA), Ruben Dias (Manchester City/ENG), Pepe (FC Porto), Nuno Mendes (Sporting Lisbon), Raphael Guerreiro (Borussia Dortmund/GER)
Midfielders (9): Danilo Pereira (Paris SG/FRA), Joao Palhinha (Sporting Lisbon), Ruben Neves (Wolves/ENG), Joao Moutinho (Wolves/ENG), Renato Sanches (Lille/FRA), Bruno Fernandes (Manchester United/ENG), Sergio Oliveira (FC Porto), William Carvalho (Real Betis/ESP), Bernardo Silva (Manchester City/ENG)
Forwards (7): Cristiano Ronaldo (Juventus/ITA), Diogo Jota (Liverpool/ENG), Rafa Silva (Benfica), Andre Silva (Eintracht Frankfurt/GER), Joao Felix (Atletico Madrid/ESP), Gonçalo Guedes (Valencia/ESP), Pedro Goncalves (Sporting Lisbon)
Portugal EURO 2020 Lineup : (4-4-2)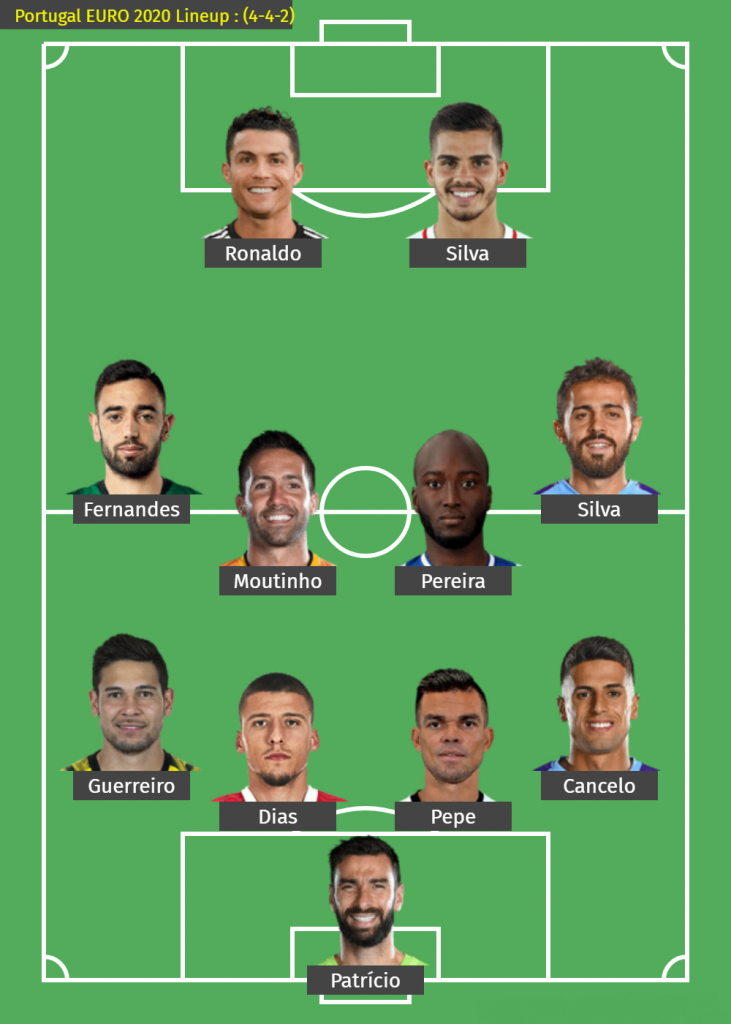 For a long time, Portugal has been using this formation of two strikers, so this might be Portugal probable lineup in Euro 2020. In this, Pepe will anchor defence along with young Ruben Dias. Joao Cancelo and Raphael Guerreiro will be relentless forces up the right-flank and left-flank. Joao Moutinho and Danilo Pereira will hold midfield and allow Bruno Fernandes and Bernardo Silva to bring their dynamic form to the international stage. In attack, Cristiano Ronaldo will be one of the two strikers. The choice of second striker will be very difficult for the coach. The forward options available in Portugal squad for Euro 2020 are Joao Felix, Diogo Jota and Andre Silva. After seeing the last season performances with AC Milan, Silva should get the chance to partner with Ronaldo.
Portugal EURO 2020 Lineup : (4-3-3)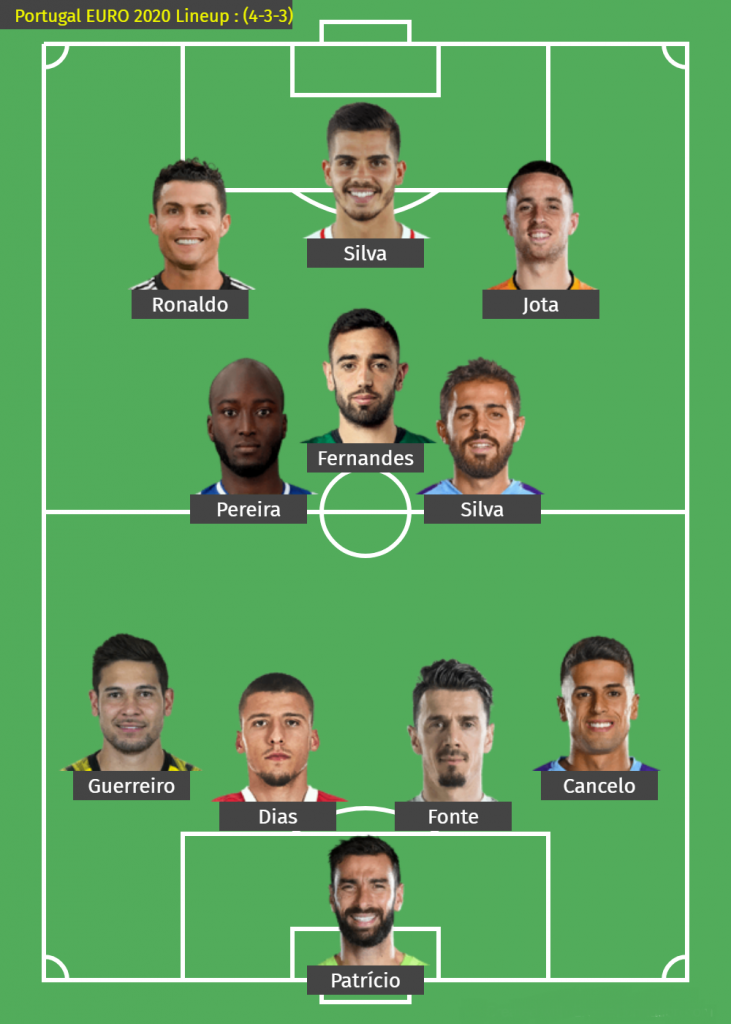 This formation is just one of the many attacking formations available for Portugal probable lineup. The 4-3-3 formation will be best suitable to utilize the forward players in Portugal squad for Euro 2020. The only concern about this lineup is that it is too attack oriented. The defence will be as usual like in other formations. Joao Cancelo and Raphael Guerreiro will guard the flanks. Ruben Dias will be the main defender for Portugal in Euro 2020. Although, the coach might give a chance to Fonte instead of Pepe. In the midfield, the responsibility to hold the possession will be taken by Danilo Pereira and Bernardo Silva. Bruno Fernandes will get to play at his best position of attacking midfielder in this formation. Diogo Jota is a player who can play at either wing, but he will be most effective at right. Cristiano Ronaldo will play as left winger, a position in which he is the best ever. The position of striker might be a bit confusing as there are two options available, Andre Silva and Joao Felix. Andre Silva should get nod over Felix.
Portugal EURO 2020 Lineup : (4-2-3-1)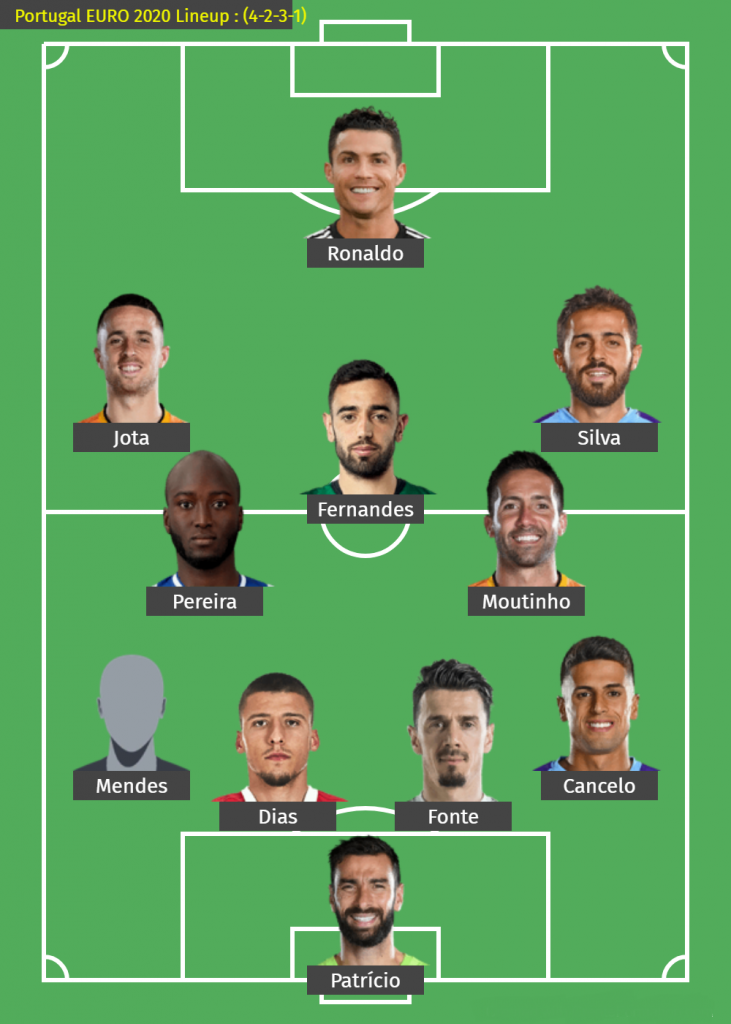 Another Portugal probable lineup is a formation of 4-2-3-1. A very few chances are there that Fernando Santos will go with this formation. But in the friendly match against Spain, he used this formation, so there are high probabilities that Portugal may lineup in 4-2-3-1 formation with two defensive midfielders. Although the coach rested Ruben Dias in the friendly, but he will surely start for Portugal in all matches at Euro 2020. Either Jose Fonte or Pepe will be selected in the defence. Joao Cancelo is the best option at right back whereas at left flank, youngster Nuno Mendes might be a surprising selection by the coach. Portugal squad for Euro 2020 has good defensive midfielders like Danilo Pereira, Joao Palhinha, Joao Moutinho, Renato Sanches, Sergio Oliveira and William Carvalho. Pereira and Moutinho will be suitable in this formation. Bruno Fernandes will get the position of central attacking midfielder. Bernardo Silva will be comfortable at right flank and Diogo Jota can adjust him at left flank. Cristiano Ronaldo will be the main goal scorer of the team.
See also :