FIFA World Cup 2022 is all set to begin in November, but the squad of teams for this tournament is starting to take shape already. In this article, we have given Argentina Team Analysis for FIFA World Cup 2022, Argentina Squad for World cup 2022 and what will be the Argentina Probable Lineup. Watch FIFA World Cup 2022 Team Analysis.
Argentina Team Analysis for FIFA World Cup 2022

Argentina national team coach Lionel Scaloni has selected his list of players for World Cup 2022.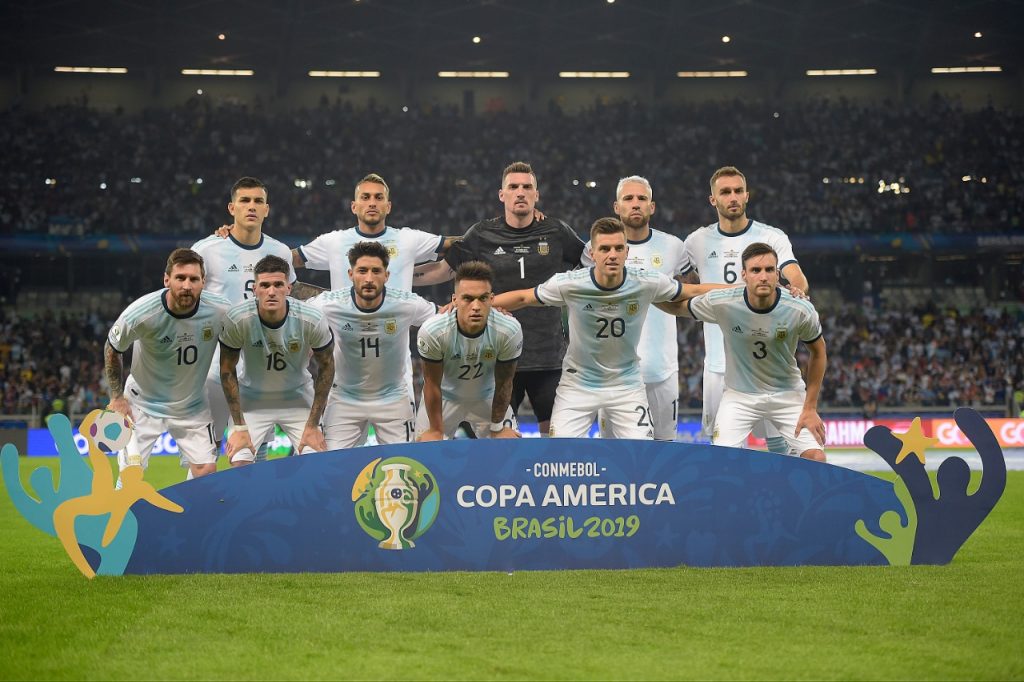 The veterans on the team are Lionel Messi, Angel Di Maria and Agustin Marchesin have all been included. Scaloni has chosen a 28-man squad packed with pedigree as Argentina attempt to conquer the World Cup in Qatar.

After two abortive attempts on the Copa America, Argentina won the title in June 2021. Naturally, all eyes are on their skipper and world's best football player Lionel Messi. Having won everything going for Barcelona, Messi, the record-breaking forward is now desperate to add the most coveted trophy in national colours to his cabinet. Anyways the Argentina Squad for World Cup 2022 looks strong and competitive this time.
Argentina FIFA World Cup 2022 Squad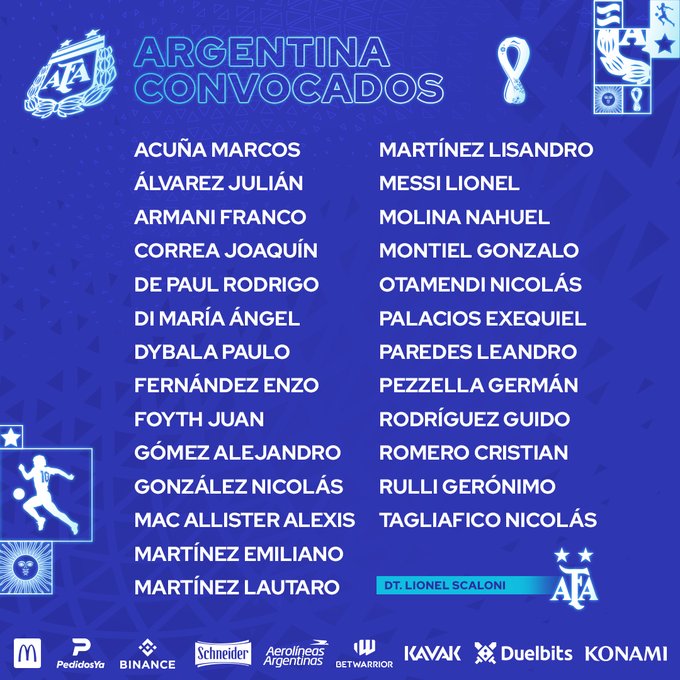 Goalkeepers: Franco Armani (River Plate), Emiliano Martinez (Aston Villa), Agustin Marchesin (Porto) and Juan Musso (Udinese)
Defenders: Gonzalo Montiel (River), Nicolas Otamendi (Benfica), German Pezzella, Lucas Martínez Quarta (Fiorentina), Nicolas Tagliafico, Lisandro Martínez (Ajax), Marcos Acuna (Sevilla), Cristian Romero (Atalanta), Nahuel Molina Lucero (Udinese).
Midfielders: Leandro Paredes, Angel Di Maria (Paris Saint-Germain), Guido Rodriguez (Betis), Giovani Lo Celso (Tottenham), Exequiel Palacios (Bayer Leverkusen), Nicolas Gonzalez (Stuttgart), Rodrigo De Paul (Udinese), Alejandro Gomez (Sevilla), Angel Correa (Atletico Madrid), Nicolas Domínguez (Bologna)
Forwards: Lionel Messi (Barcelona), Lautaro Martinez (Inter Milan), Joaquin Correa (Lazio), Lucas Alario (Bayer Leverkusen) and Sergio Aguero (Barcelona)
Argentina FIFA World Cup 2022 Lineup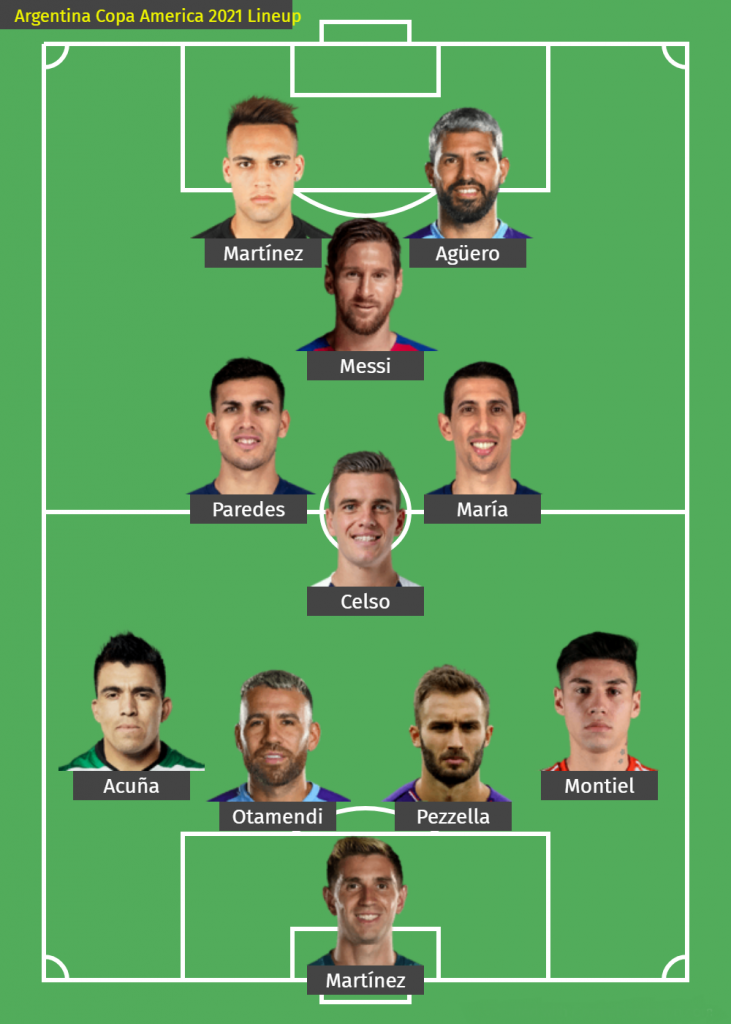 Goalkeeper 
Emiliano Martinez/Juan Musso : With the World Cup just one month away, Martinez seems to be Lionel Scaloni's chosen starting goalkeeper, fighting with Franco Armani. Emiliano Martinez was transferred for €20 million from Arsenal to Aston Villa in September of 2020, becoming the most expensive Argentine goalkeeper in history. Taking into view the options available, Martinez will be the keeper. Let's see who will be selected by the coach. The 28-year-old has arguably been one of the best keepers in the Premier League this season and has helped turn Villa from a side that narrowly escaped relation last year into a team that looks rigid at the back.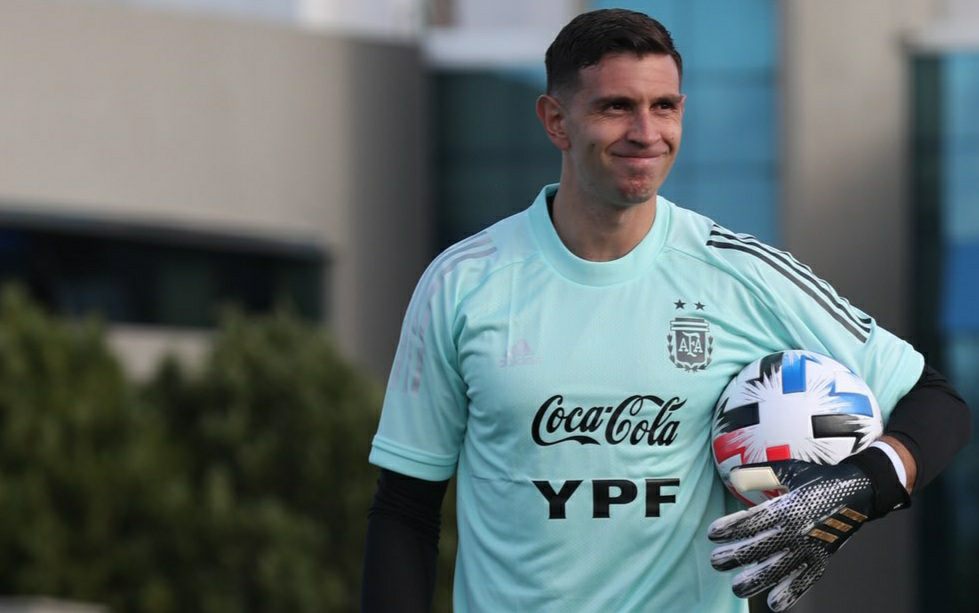 Defenders
Marcos Acuna : Marcos Acuna had a massive role to play on the left flank and is likely to keep his place in Argentina's starting line-up. Acuna could certainly do more to make an attacking impact that yields better fantasy numbers, but he's still top-15 in both crosses and tackles and that gives him a good base value for the coming campaign. He can play as a left back as well as wing back. So, we can see the formation being changed to 3-4-3 with Acuna on the left wing. Although the presence of Nicolas Tagliafico in Argentina World Cup 2022 Squad will be a challenge to him.
German Pezzella : The 29-year-old Argentina international was constantly out of position, playing opponents onside or stepping up and leaving gaps in behind for Fiorentina. He's looked out of sorts for a few months now, but this is certainly the lowest point for a player who knows he's capable of being much, much better. But with limited options, he will most likely start.  He's been eating, breathing, and living soccer for two decades.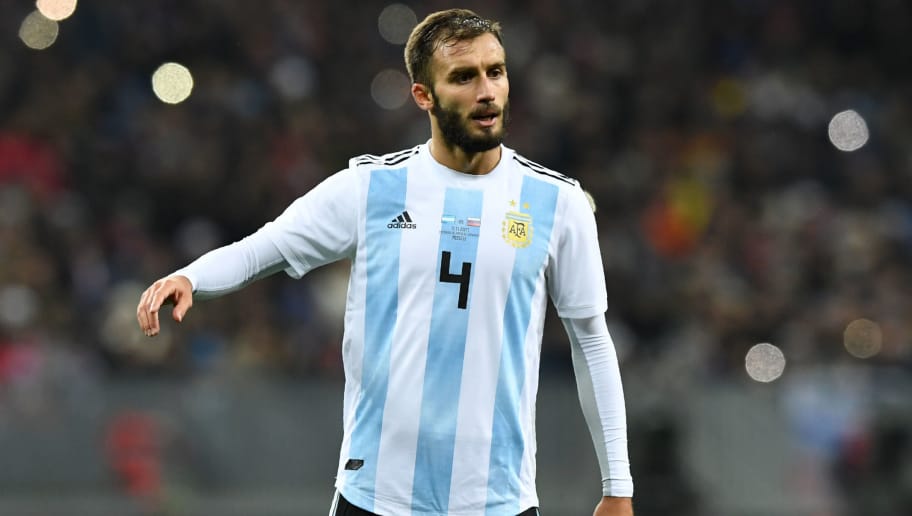 Nicolas Otamendi/Lucas Martinez : Otamendi had five wonderful seasons at City. Otamendi has seen his value fall after being routinely exposed so far from goal. I still contend Otamendi could play a valuable defensive role in many teams who play a more solid and deeper back four. Another potential option for centre back is Lucas Martinez. Martínez Quarta has shown in his debut that he has the legs to keep up with and eventually win the ball from speedy players. But, with the clear level of talent he possesses, it will be tough for Lionel Scaloni to keep him out of the starting lineup for long.  He looked technically solid and assured on the ball from the start. He had the pace and height necessary to handle a duel with most forwards.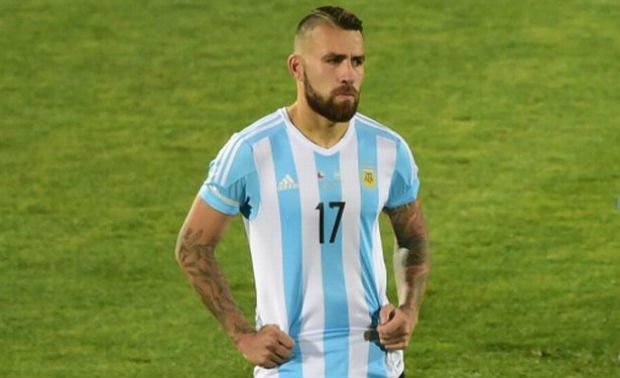 Gonzalo Montiel : It was surprising to see defender Juan Foyth and striker Lucas Ocampos missing out from the 28-player Argentina World Cup Squad, despite featuring regularly since Lionel Scaloni became head coach in 2018. He will be a key player in Argentina Squad.  Gonzalo Montiel is the most sought right-back in Argentina.
While playing for River Plate and Argentina, Montiel usually lines up as the right-back. He essentially has been a wing-back for most of his career. Montiel patrols the right flank exclusively, with a few forays into the half-spaces. Montiel is very dependable in his defensive duties. The young Argentine rarely ever comes out on the losing side when it comes to duels in the defensive third.
Midfielders
Leandro Paredes/Nicolas Gonzalez : When he's good, he's unbelievable. But when he's bad, it's the complete opposite. Argentina need Paredes to be on top form in order to break through the defences of other teams. He may not be a name to light up the world but the Argentine gives everything for his side and his passion is undeniable, which has allowed him to become an stalwart in the PSG squad. It is expected that he will also become a starter in Argentina Starting 11 as well.
With his ability to play up front and out wide on the left, Gonzalez could also form an outstanding duo with Di Maria on the right-hand side. The 23-year-old Gonzalez is more of an inside forward, with a real clinical edge. His ability to operate anywhere across the attacking line has seen him become a top talent in Germany. However with a lot attacking options already available, he has a chance in only midfield.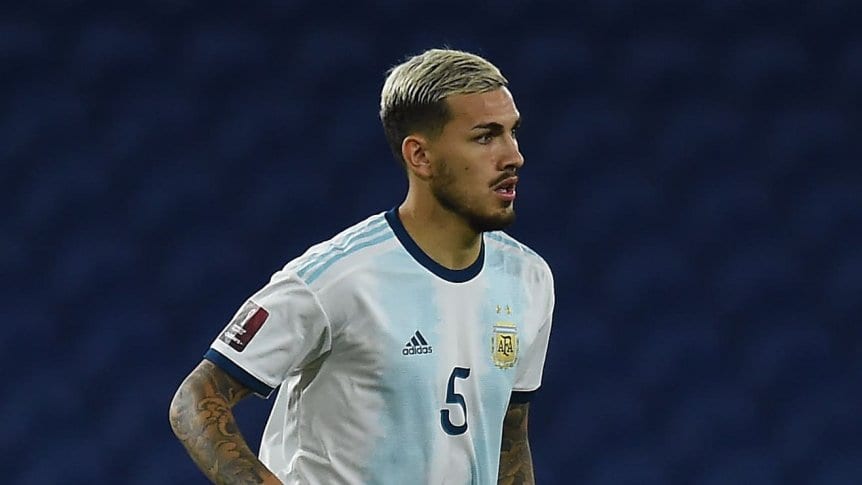 Giovani Lo Celso : A central midfielder who likes to attack, Lo Celso is blessed with great dribbling abilities but does not shy away from the dirty work either. He is also great at attempting shots from distance. Lo Celso, joined Spurs from Real Betis in the summer of 2019, initially on loan, has endured a tough season, scarred by a three-month hamstring injury lay-off from 20 December. In this Argentina team, Lo Celso should be the mainstay in the midfield, alongside Leandro Paredes. Although Lo Celso has been rather poor in recent months for Spurs, but he is likely to start in the midfield. He will prove to be a vital player in Argentina Squad for World Cup 2022.
Angel Di Maria/Guido Rodriguez : Di Maria's has consistently been a managerial and fan favourite, perhaps because, for all his talent, he always remains so fully committed to the collective. He has the energy to provide vital interjections at the most opportune moments. However, he just don't fit in the plans of current Argentina coach. Another option will be Guido Rodriguez. His defensive prowess is said to have 'naturally aroused' the interest of Europe's big clubs. Rodriguez has impressed this season for Betis and has grown a lot since moving to the Spanish side from Mexican giants Club America in 2020.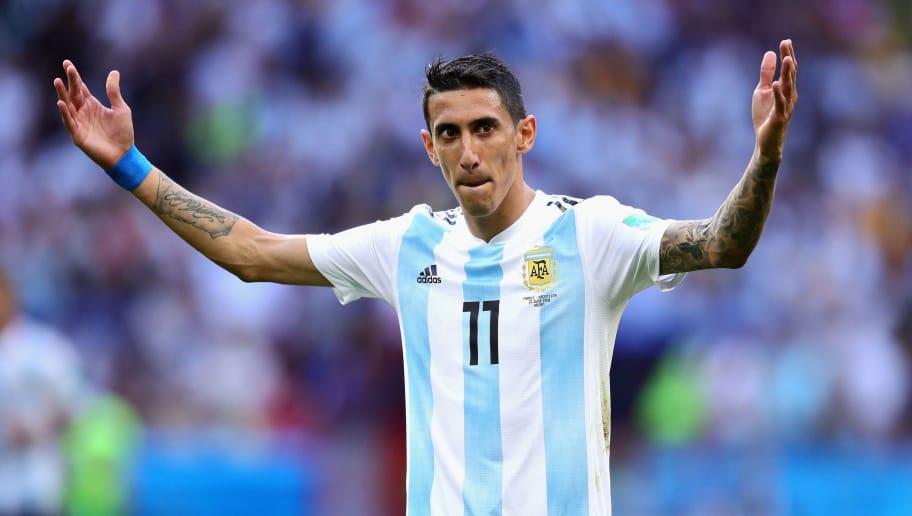 Forwards
Lautaro Martinez : He is a complete forward and has lately turned it up on the European stage. Lautaro Martinez is a striker capable of helping the team in the buildup due to his respectable eye for a pass and is capable of providing assists to his teammates. He joined Inter Milan from Racing Club in the summer of 2018 and has since gone on to establish himself as one of the best forwards on show in Serie A. Martinez, 23, has been a key part of Antonio Conte's Serie A-winning squad, with 17 goals and ten assists in 38 league games. His presence will improve the level of Argentina Squad for World Cup 2022.
Lionel Messi : Lionel Messi is still the Best Player in the world and is coming into the Copa America on the back of a brilliant season on the personal level. Lionel Messi is his country's all-time top goalscorer and instantly makes Argentina one of the favourites of the tournament. Messi is only a World Cup and Copa America trophy away from having a clean-sweep of plaques. It's no wonder many believe the six-time Ballon d'Or winner is the finest playmaker the beautiful game has ever seen. He also creates a ridiculous number of chances that are then missed by his teammates. Messi is best in his current position at Argentina. He will provide assistance to Sergio Aguero and Lautaro Martinez.
Sergio Aguero : He combines very well with his good friend Messi and should be raring to go in the Copa America as well. Argentina will be riding on his smart runs, his positioning and his exceptional finishing abilities to mount a challenge on the Copa America title. He can score goals, provide assists, can help in the buildup, and despite his short height, still manages to score quite a few with his head too. Dybala's playing style has drawn comparisons with compatriot Lionel Messi at times. Dybala is a versatile forward who is capable of playing in many positions such as centre-forward, wide-playmaker, false-nine, and more. Let's see if he would be able to make it to the Argentina Squad for World Cup 2022.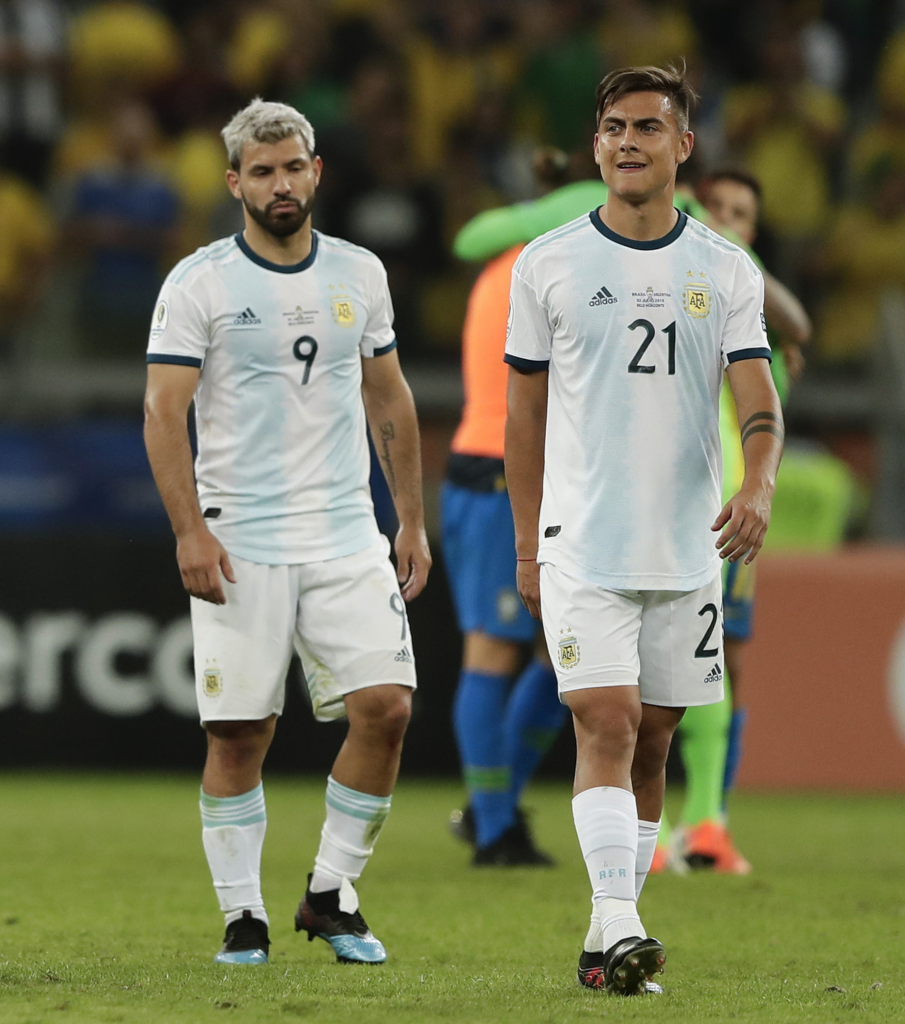 We will provide FIFA World Cup 2022 Team Analysis for all other teams participating in the tournament.