IPL 2023 – RCB vs PBKS Player Battle – Shikhar Dhawan's Punjab Kings will play against Faf Du Plessis' Royal Challengers Bangalore in the fixture of Indian Premier League 2023.
Royal Challengers Bangalore and Punjab Kings rivalry
When it comes to the Indian Premier League (IPL), the competition is not just between individual players, but also between the teams they represent. One of the most exciting rivalries in the IPL is between the Royal Challengers Bangalore (RCB) and the Kings XI Punjab (now known as Punjab Kings). These two teams have faced each other multiple times, and each match has been a battle for supremacy. In this article, we will explore the history of the RCB vs Punjab IPL rivalry and try to understand what makes it so intense.
The RCB vs Punjab rivalry dates back to the inaugural season of the IPL in 2008. The RCB was led by former Indian captain Rahul Dravid, while the Kings XI Punjab was captained by Australian great Yuvraj Singh. In their first encounter, RCB emerged victorious, thanks to a brilliant bowling performance by Praveen Kumar. However, in the reverse fixture, Kings XI Punjab exacted revenge by defeating RCB in a high-scoring match. This set the tone for what was to come in the years ahead.
The RCB vs Punjab rivalry has produced some nail-biting finishes over the years. In 2016, RCB pulled off a sensational comeback to win the match by one run, with Virat Kohli playing a captain's knock. In 2019, Punjab Kings exacted revenge by winning a match that went down to the wire. The teams have played 26 matches against each other, with RCB winning 14 and Punjab Kings winning 12. This shows just how evenly matched they are and how competitive their encounters have been.
Here's a look at the Top Player Battles to watch out for in this IPL clash between RCB vs PBKS :
Virat Kohli vs Mohammed Shami 

One of the best limited-overs batsmen, Virat Kohli will be facing one of the finest modern-day pacers. Kohli has an excellent IPL record and he has been blazing runs in IPL 2021. Mohammed Shami has been in top form in IPL and has continued to impress in the IPL. Shami looks all set to trouble his Team India skipper with some accurate yorkers and splendid variations. Virat Kohli will be surely prepared to tackle Shami's skill. It will be exciting to see who comes out on top in this player battle.
For us, the winner will be Virat Kohli in this IPL player battle.
AB Devillers vs Ravi Bishnoi

Even as the rest of the RCB batting lineup struggled to score well in the match against DC, AB Devillers took his team to a fighting score. Despite not playing international cricket, AB consistently performs good for RCB whenever needed. Punjab Kings will use their young leg spinner, Ravi Bishnoi against ABD. More than his impressive numbers, what has stood out is Bishnoi's big-hearted attitude, standing up to the biggest names in international cricket.  Bishnoi will have his work cut out for him against de Villiers, but he won't give up without a fight.
For us, the winner will be AB Devillers in this IPL player battle.
KL Rahul vs Mohammed Siraj
In the last three IPLs, KL Rahul has made 15 scores of 50+. Six of those innings have had a negative Batting Impact. Rahul is consistently playing good and making runs but at low strike rate. But whether it's expectation, extra responsibility, or reverting to the mean, his recent approach is simply not working. Anyways, Rahul will pose a big threat to RCB's ambition of winning the match and the visitors will hope their premier pacer can get rid of him early in the innings. Mohammed Siraj will challenge his ex-RCB teammate. Siraj has been phenomenal in IPL 2021. He has improved himself to a great extent. He has full control over his yorkers. Let's see if KL Rahul has an answer to his yorkers.
For us, the winner will be Mohammad Siraj in this IPL player battle.
Devdutt Padikkal vs Arshdeep Singh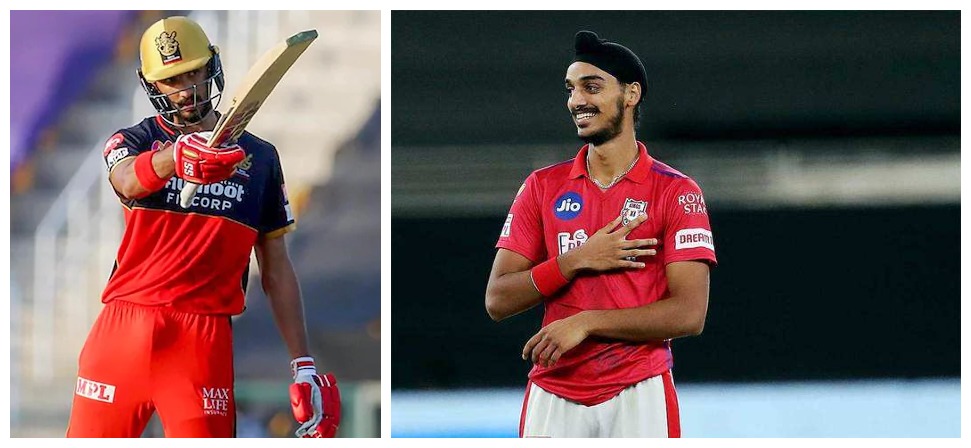 Devdutt Padikkal has stood up well to the responsibility of opening for RCB. If Padikkal gets RCB off to a flying start, it makes the game easier to manage for Kohli and de Villiers. Just like him, Arshdeep Singh, the medium pacer has also a good season up till now. He is bowling well and KL Rahul is also putting trust on him. It will be a worthy watching clash between the two youngsters. Devdutt Padikkal managed to score 18 runs off 12 balls by Arshdeep Singh, while Singh was able to dismiss him once.
For us, the winner will be Arshdeep Singh in this IPL player battle.
Also Read : Watch Live IPL 2023 Free – Some Frequently Asked Questions
Also Read : IPL 2023 Live streaming – Apps to watch IPL free
Also Read : Where to watch IPL T20 Live Free