Chris Gayle IPL 2022 – The first match of IPL 2022 will be played on March 25th,2022. This time the BCCI has brought back Indian Premier League back to India. Fans around the world are even more excited for IPL 2022 because the tournament will be played with two new teams which will make the upcoming 15th edition a 10-team affair. Gujarat Titans and Lucknow Super Giants are the two new teams this season. However, amidst this joy and excitement, there is a little bit of sadness. In this new phase of IPL, fans will not be able to witness some of the most popular cricketers who have became IPL legends. A few big names are going to miss IPL because of different reasons. Some have announced retirement, some decided to opt out of auction, some were left unsold at the mega auction while some decided to leave due to bio-bubble restrictions. One such big name who is going to miss IPL 2022 is Chris Gayle. Fans are confused and wanted to know why Chris Gayle is not playing in IPL 2022?
Why did Chris Gayle leave IPL 2021?
Chris Gayle IPL 2022
In his IPL career, Chris Gayle has played for three teams: Kolkata Knight Riders, Royal Challengers Bangalore and Punjab Kings.
Why Chris Gayle is not playing in IPL 2022?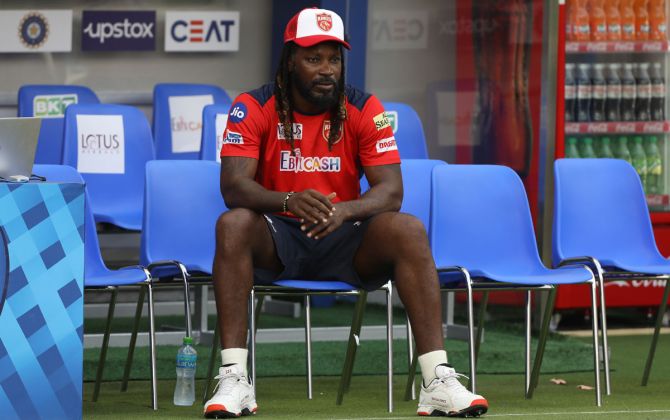 Chris Gayle is not playing in IPL 2022 because he refrained from taking part in IPL 2022 mega auction on February 12 and 13. Gayle did not register his name for the 2022 edition of the Indian Premier League. After missing out for IPL this season, it seems that he may never return to the game again because he has already turned 42.
Chris Gayle is regarded as the most explosive batsman in the history of IPL. He also has the highest score of 175 against the Pune Warriors India in IPL history.
Why Chris Gayle opted out of IPL 2022 Mega Auction?
Chris Gayle IPL 2022 – The exact reason behind this decision of Gayle to opt out of IPL auction has not been revealed. However, it is assumed that it was due to bio-bubble restrictions. It was clear that Gayle was frustrated with the restrictions due to Covid after he departed from Punjab Kings in the middle of IPL 2021.