FIFA World Cup 2022 has started in Qatar. 32 teams are participating and a large number of players are fighting to win the most coveted international trophy for their respective country. Fans love to watch their nation playing in the World Cup. However, it is not possible for all countries to participate in the World Cup because there is a limit on the number of teams. There is a huge number of Indian football fans who want to see their country playing at the World Cup. Do you know Why India is not playing FIFA World Cup 2022 ?
Recently, the International Federation of Association Football (FIFA) suspended the football controlling authority of India i.e. All India Football Federation (AIFF). The sudden suspension came after FIFA suspected undue third-party interference in the governance of AIFF which is a violation of FIFA's statutes. However, this ban was lifted after a few days but even then, this instance was very shameful for India. Due to this ban, India could have lost the women's under-17 World Cup. The interference of politicians is one of the major reasons as to why India is not playing FIFA World Cup.
From national team set-up to domestic tournaments, there have been changes galore in recent years but the so-called 'sleeping giant' has not managed to come even close to qualifying for FIFA World Cup. In fact, a few months ago, the AIFF was even banned by FIFA due to intervention of third party in the management. It was very shameful for the country. However, the ban didn't last long and was lifted by the international body a few days later. Indian Football Fans want to know Why India is not playing FIFA World Cup.
Back in 2006, then FIFA President Sepp Blatter described India as a 'sleeping giant' in the world of football. But do you really think this suited us. Our young players may have won hearts, attracted huge crowds for their matches and got rave reviews from the media and football pundits. But the fact remains that Indian football has a long way to go before it can attain the status to play in FIFA World Cup.
Igor Stimac took charge of the Indian team back in May 2019 on a two-year deal that was supposed to expire last month. The All India Football Federation (AIFF) has now extended his stay until September 2021.
FIFA World Cup 2022: Probable Starting 11 of all countries
The following are the reasons Why India is not playing FIFA World Cup :
Fans support or following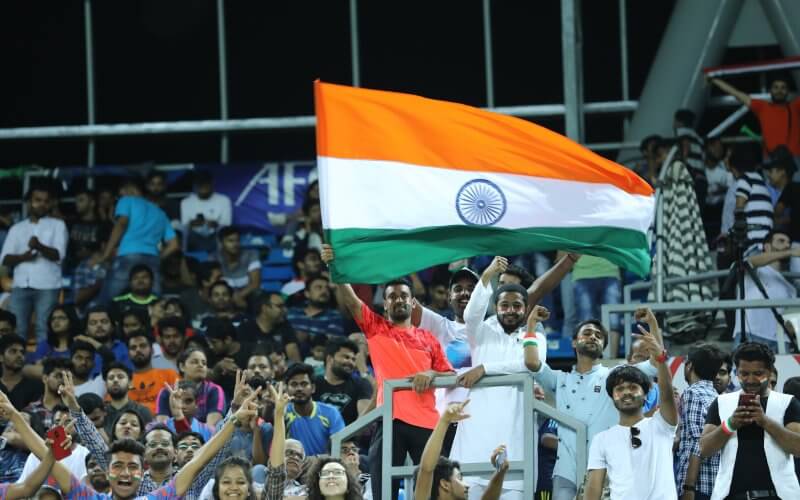 The condition of all sports apart from cricket is same when we consider fan support. In many games of Indian national team and few I-league clubs, the attendance to these games is hardly more than 10000 (except for few games like Kolkata derby). It makes a huge difference if you have a great crowd cheering for you.
Infrastructure
Lack of infrastructure and long-term vision are two of the biggest factors hampering the growth of football in India.
India lacks infrastructure for football. It is shameful that few of biggest clubs in India don't have proper training and medical facilities. It is definitely a failure of AIFF. There are less than 10 stadia of international standards which is very less considering size of India.
Promotion of game
One major reason for our country's poor ranking in FIFA is the lack of awareness about the sport. India is always known as a cricketing nation.
AIFF has failed in promotion of football. It is the only reason that ISL is more popular than I-league. Though ISL will help promoting football, I don't think it is a proper solution for development of players. Most of ISL clubs don't have training facilities or youth academies and they don't even play or train after the "season" (if that's what they call a 3 months span) is over.
No proper league system
The coming of the National League (now I-League) in the mid-1990s made these events, including the Santosh Trophy for the national championships, unfashionable. As if this wasn't bad enough, the introduction of the franchise-based Indian Super League (ISL) further broke up the local club and tournament structure. The talent flow ebbed and is now down to a trickle, because a grassroots programme wasn't put in place.
Finally a football league/tournament structure has to be worked out for the country. This should have a bottom-top approach, with city/local leagues being played from June to August. The state league can then be played from September to November, followed by the I-League/ISL from December to May.
Why did India not play FIFA World Cup 1950 despite qualifying ?
India qualified for the World Cup only once, by default in 1950 when all of its scheduled opponents withdrew. However, the All India Football Federation (AIFF), the apex body of football in India, could not send the team to play, missing a historic opportunity.
Indian football team had qualified for 1950 FIFA World Cup in Brazil but didn't participate because the All India Football Federation considered Olympics to be more prestigious. Brazil also offered to sponsor their travel but the AIFF didn't see it fit to send the team halfway around the world via ship, citing "disagreements over team selection and insufficient practice time".
Why Brazil is not there in UEFA Nations League ?