The UEFA Nations League 2022-23 has commenced with a lot of fixtures to be played in the month of June 2022. Many international football giants are playing in this tournament. However, there has been no mention of Brazil in Nations League. Many fans are confused and want to know Why Brazil is not there in UEFA Nations League ?
Portugal won the first UEFA Nations League trophy, beating Netherlands 1-0 in the final in June 2019. All big and popular national teams were there in the competition. 
The UEFA Nations League is a biennial international football competition contested by the Union of European Football Associations. Abbreviation commonly known as UEFA. Brazil is not there in UEFA Nations League because Brazil is not a member of UEFA, as it is located in South America.
Brazil cannot participate in UEFA Nations League because Brazil is not in the continent of Europe. UEFA Nations League is a football tournament for countries of Europe only.
Brazil is a South American country. Thus, they are a part of the South American football federation called CONMEBOL. Brazil does not come under UEFA. It comes under CONMEBOL. Copa America is a tournament for South American countries.
UEFA does not have a provision for members outside UEFA to participate in their tournaments. Hence, Brazil are not eligible to take part in UEFA Nations League.
The following are the continents and their respective confederations :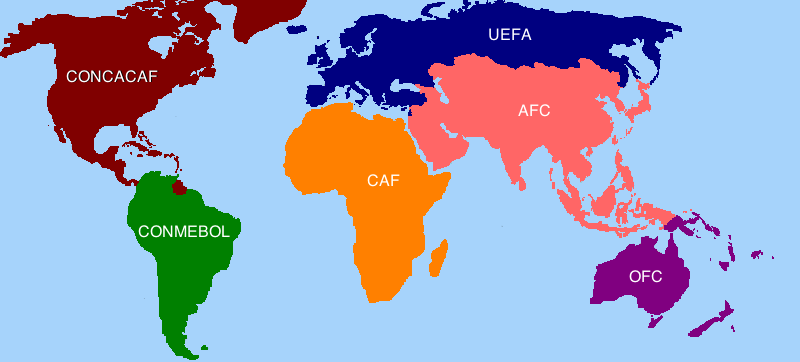 Europe (UEFA)
South America (CONMEBOL)
North and Central America (CONCACAF)
Africa (CAF)
Asia (AFC)
Oceania (OFC + Australia)
UEFA Nations League
It is a competition between the 55 member nations of UEFA, created because "UEFA and its associations wanted more sporting meaning in national team football, with associations, coaches, players and supporters increasingly of the opinion that friendly matches are not providing adequate competition for national teams.
Format of UEFA Nations League
The 55 nations are split into four "Leagues." The strongest nations are in League A, and the weakest in League D.
League A and B: Four groups of three nations (12 teams)
League C: Three groups of four nations, and one group of three (15)
League D: Four groups of four nations (16)
Teams within each group will play each other home and away.
Brazil Copa America 2021
Brazil are one of the favorites to win the title, although teams like Argentina and Uruguay will also be candidates to come out victorious. Brazil squad has all the depth and potential required to win the tournament. Brazil Copa America Squad is packed with young talented players like Milato, Jesus and Vinicius as well as veteran experienced players like Thiago Silva, Fabinho and Alex Sandro.
Brazil Squad for Copa America 2021
Goalkeepers: Alisson (Liverpool), Ederson (Manchester City), Weverton (Palmeiras).
Defenders: Emerson (Barcelona), Danilo, Alex Sandro (Juventus), Renan Lodi, Felipe (Atletico Madrid), Éder Militão (Real Madrid), Marquinhos (Paris Saint-Germain), Thiago Silva (Chelsea).
Midfielders: Casemiro (Real Madrid), Douglas Luiz (Aston Villa), Everton Ribeiro (Flamengo), Fabinho (Liverpool), Fred (Manchester United), Lucas Paquetã (Lyon).
Forwards: Everton (Benfica), Roberto Firmino (Liverpool), Gabriel Barbosa (Flamengo), Gabriel Jesus (Manchester City), Neymar (Paris Saint-Germain), Richarlison (Everton), Vinicius Junior (Real Madrid).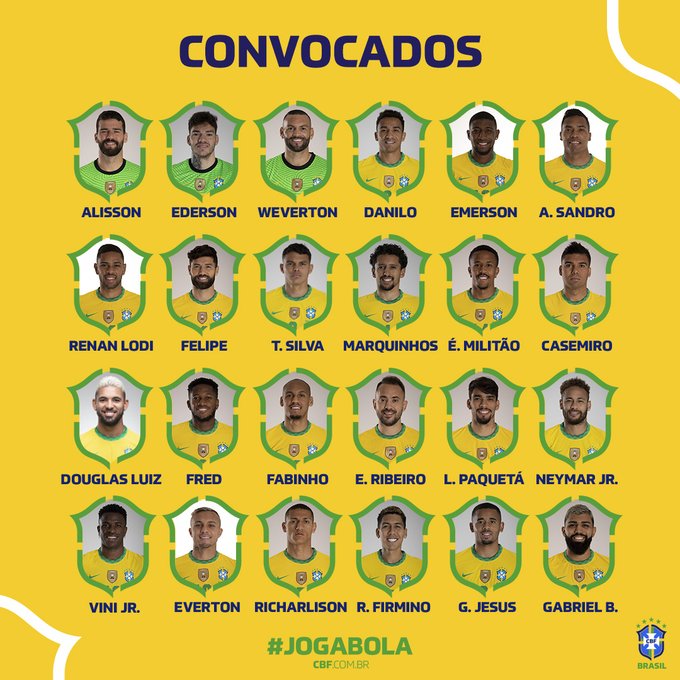 Brazil Copa America 2021 Fixtures
Brazil vs Venezuela, (Group B) at Brasilia on June 14 (2:30 AM IST)
Brazil vs Peru (Group B) at Rio de Janeiro on June 18 (5:30 AM IST)
Brazil vs Colombia (Group B) at Rio de Janeiro on June 24 (5:30 AM IST)
Ecuador vs Brazil (Group B) at Goiania on June 28 (2:30 AM IST)
See Also :
COPA AMERICA 2021 : Argentina vs Uruguay Player Battle
UEFA EURO 2020 : Portugal vs Germany Player Battle
UEFA EURO 2020 : France vs Germany Player Battle