The Summer Olympics or we can say that the Tokyo 2020 Olympics has already started. It is a good treat for football fans also. They are excited about the Football Tournament at Tokyo 2020 Olympics. The tournament is basically a platform for U-23 players but 3 overage players are also permitted in the squad. This time there are very few popular footballers who are playing in Olympics. It was assumed that Neymar will play at Tokyo 2020 Olympics after a defeat in the final of Copa America 2021. But Neymar has not been included in the Brazil Squad for Tokyo 2020 Olympics. Fans want to know the reason why Neymar is not playing for Brazil in Tokyo 2020 Olympics.
In the beginning, it was rumored that Neymar will lead the Brazil Football Squad at Tokyo 2020, but it has not happened. Fans were hoping that Neymar may recreate what he did at Rio Olympics in 2016. But unfortunately Neymar is not playing in 2021 Olympics for Brazil.
Why Neymar is not playing for Brazil in Tokyo 2020 Olympics ?
The main reason behind the absence of Neymar for Brazil Squad for Olympics is that his club PSG haven't allowed him to take part in the Olympics. Neymar has played in every match of Copa America 2021 with Brazil, who reached the finals and were eventually beaten by Argentina. The club is worried that he might not get time to rest if he takes part in Olympics. Neymar is also injury prone and playing at Olympics can increase the chances of him being injured. Therefore, PSG wanted to have him back on time for preseason.
Brazil Football Squad for Tokyo 2020 Olympics
After Paris Saint-Germain denied Neymar from participating in the Tokyo 2020 Olympic Games, Brazil have to depend on younger players to perform good at the tournament.
Brazil Football Squad for Tokyo 2020 Olympics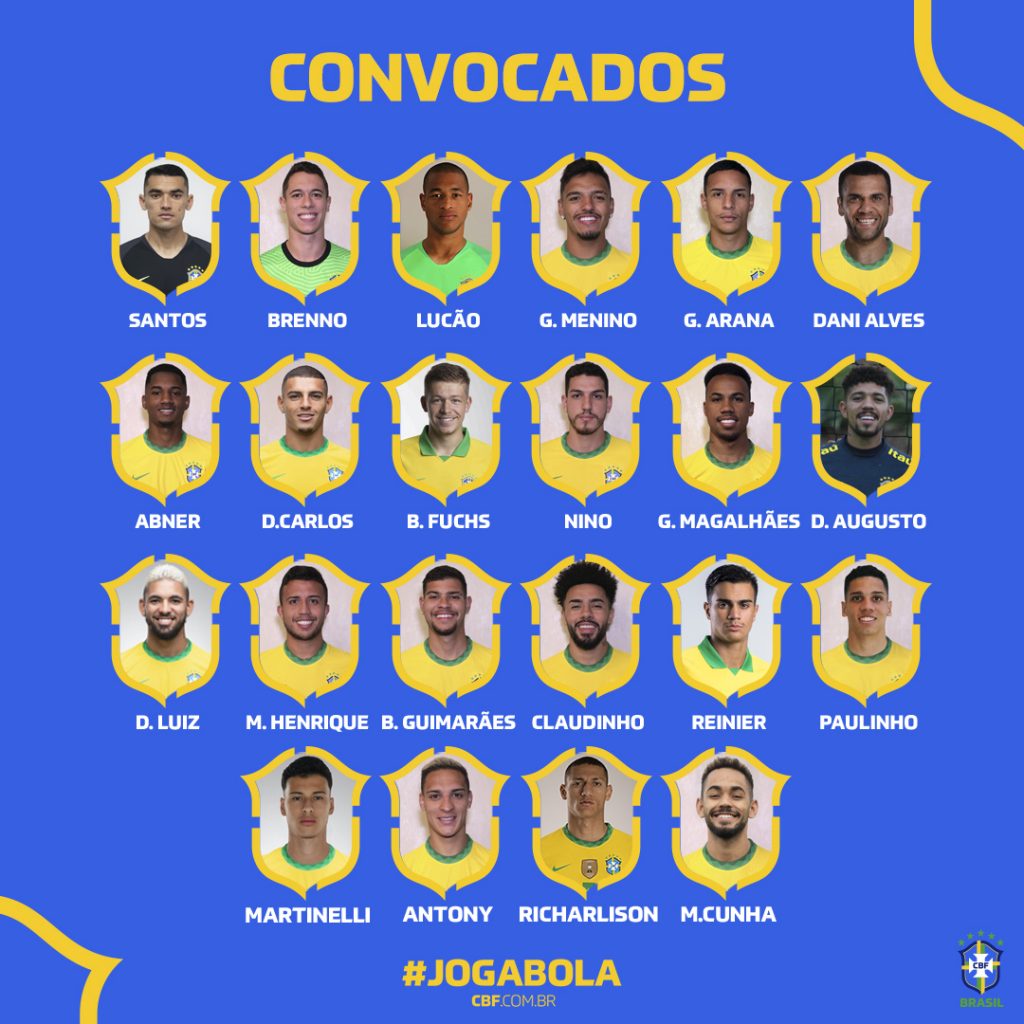 Goalkeepers
Santos (Athletico Paranaense), Brenno (Gremio)
Defenders
Daniel Alves (Sao Paulo), Gabriel Menino (Palmeiras), Guilherme Arana (Atlético Mineiro), Nino (Fluminense), Gabriel Magalhães (Arsenal), Diego Carlos (Sevilla)
Midfielders
Douglas Luiz (Aston Villa), B. Guimarães (Olympic Lyon), Matheus Henrique (Gremio), Gerson (Flamengo), Claudinho (Red Bull Bragantino)
Attackers
Malcom (FC Zenit), Antony (Ajax), Paulinho (Bayer Leverkusen), Matheus Cunha (Hertha BSC), Pedro (Flamengo)
Did Neymar play in the Olympics?
Yes, Neymar played in the Rio 2016 Olympics. He was the captain of Brazil's side which won the Gold Medal at Men's Football Tournament. Neymar also scored the winning penalty for Brazil after losing the final at the 2012 London Olympics.