The world famous summer Olympics is here. It was scheduled in last year but due to Covid-19 it was postponed. Tokyo 2020 Olympics will held in the month of July and August. This time India is sending its largest ever contingent to the Tokyo Olympics. Therefore the probability of winning medals has increased. When we talk about Olympics, the name of Saina Nehwal bounces in our minds. Saina Nehwal is the first-ever badminton player from India to win an Olympic medal. She achieved this feat when she won the bronze medal at the London 2012 Games. But she will not participate in the upcoming Tokyo 2020 Olympics. In this article, we will explain Why Saina Nehwal not qualified for Tokyo 2020 Olympics.
One of the most famous badminton star in India, Saina Nehwal won't be playing at the Tokyo 2020 Olympics. The reason behind her absence from Olympics is that she has not been able to qualify for the upcoming Olympics. The criteria to qualify in Badminton at Olympics is that the players had to be ranked inside the top 16 of the singles rankings.
Saina Nehwal is ranked 22nd while PV Sindhu, who won gold at the 2019 World Championships, is ranked seventh. Saina played in a 17 tournaments during the Tokyo Olympics qualification cycle. She earned a total of 57367.4134 points from those tournaments. After considering the 10 best results that contribute to Race to Tokyo Rankings she has 43037 points. She played a total of 28 matches during this time and won just 11 of those with a poor 39.2% win percentage.
Saina started her campaign for Tokyo Olympics with the New Zealand Open in 2019. She was eliminated in the opening round. In several successive tournaments she suffered first-round exits which made it difficult for her to qualify.
Below are the performances of Saina Nehwal in the Tokyo Olympics qualifying tournaments.
New Zealand Open 2019 – Round 1
Sudirman Cup 2019 – Lost the only match played
Thailand Open 2019 – Round 2
World Championships 2019 – Round 2
China Open 2019 – Round 1
Korea Open 2019 – Round 1
Denmark Open 2019 – Round 1
French Open 2019 – Quarterfinals
China Open 2019 – Round 1
Hong Kong Open 2019 – Round 1
Malaysia Masters 2020 – Quarterfinals
Indonesia Masters 2020 – Round 1
Thailand Masters 2020 – Round 1
Barcelona Spain Masters 2020 – Quarterfinals
All England Open 2020 – Round 1
Swiss Open 2021 – Round 1
Orleans Masters 2021 – Semifinals
The chances of Saina Nehwal making it to the Tokyo Olympics were later on depleted by postponement of a number of tournaments that served as qualifiers. These tournaments were the Indian Open, the Malaysian Open, and the Singapore Open, in March and April. That's why Saina Nehwal not in Olympics.
The three tournaments were the last in the qualification calendar and were all deferred amid a deadly second wave of the Covid-19 pandemic in India.
"The Badminton World Federation (BWF) can confirm no further tournaments will be played inside the Tokyo 2020 Olympic Games qualifying window. As such, while the qualification period officially closes 15 June 2021 as per the Revised Tokyo 2020 Qualification System, the current Race To Tokyo rankings list will not change." Statement by BWF.
Along with Saina Nehwal, Srikanth Kidambi is another name that will be missing from Tokyo 2020 Olympics. Both players are getting older and might find it difficult to appear in the 2024 Olympics in Paris. Saina is 31 while Srikanth is 28. Tokyo 2020 Olympics was practically the last chance for Saina to challenge for a second Olympics medal as she would be 35 by 2024.
Indian badminton players qualified for Tokyo Olympics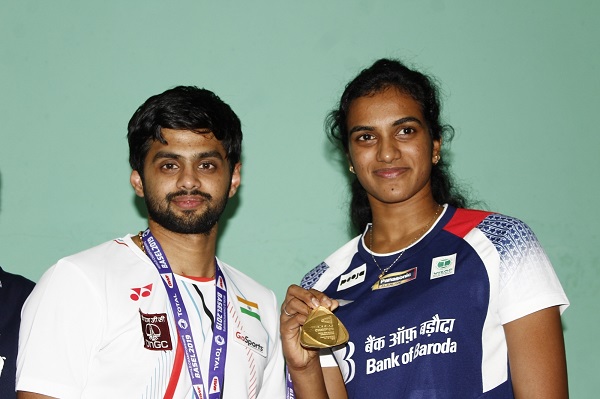 PV Sindhu, Women's singles
B Sai Praneeth, Men's singles
Satwiksairaj Rankireddy and Chirag Shetty, Men's doubles
PV Sindhu is one of the biggest name in the Indian contingent for Tokyo 2020 Olympics. She was very close to winning an individual Olympic gold medal for India in 2016 but was defeated by Spain's Carolina Marin in the final in Rio. She was the first Indian to become Badminton World Champion after winning a gold medal at the 2019 World Championships. Sindhu defeated Nozomi Okuhara 21-7, 21-7 in the final. PV Singhy won the silver medal at the 2018 Commonwealth Games and the 2018 Asian Games. In absence of Saina Nehwal, she will be the favorite to win a medal at Olympics in badminton.
Why don't professional footballers play in the Olympics ?
Why Indian Football Team is not in Tokyo 2020 Olympics ?