The season has been finished and definitely it was not a good one for Barcelona. Barcelona's signings have been inefficient. They signed great individual players but proved to be unfit for the team. Be it Coutinho or Griezmann, they did not perform as per their value. Everyone is eagerly waiting to know how Barcelona could line up next season. Anyways it is quite sure that Barcelona Line up next season will be full of big names and talented players.
According to reports, work is already underway to rebuild the squad ahead of the new season. Fans would be excited to know how Barcelona could line up next season. Barcelona are heading for a thrilling summer transfer window, following the return of their new-old president, Joan Laporta. Despite the club's debt, they are prepared to contend seriously for major titles in the next campaign, new faces are predicted in the dressing room. The transfers like Eric Garcia, Sergio Aguero, and Memphis Depay have been done. It is also assumed that Philippe Coutinho will be sold in the summer and Dembele will not be regarded as first team player anymore.
The club legend, Lionel Messi has left the club. It is a major setback for Barcelona. Barca were already in a very difficult phase and the news of Messi leaving has left the fans in depression. Lionel Messi is the best footballer at the moment and his absence will definitely hurt Barcelona. Although, Barca has signed many superstars but will they be able to fill the void left by Messi.
After finishing third in La Liga and again failed to succeed in Champions League, Barcelona will focus on rebuilding their squad for the next season. See how Barcelona could line up next season :
How Barcelona Could Line Up Next Season without Lionel Messi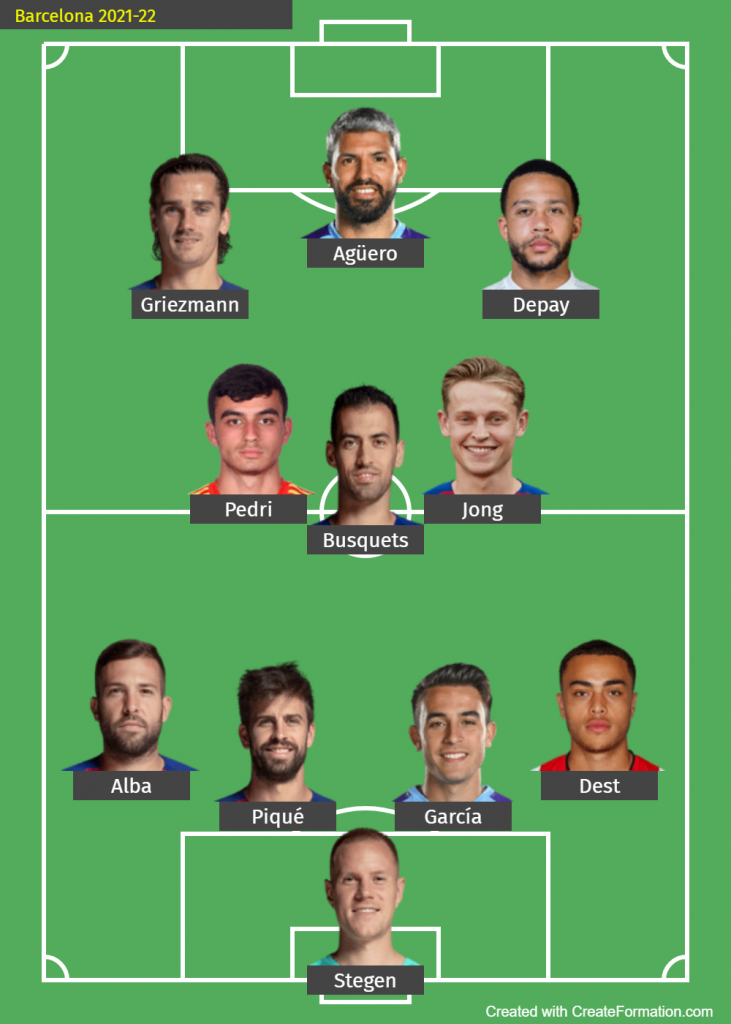 Goalkeeper : Ander Ter Stegen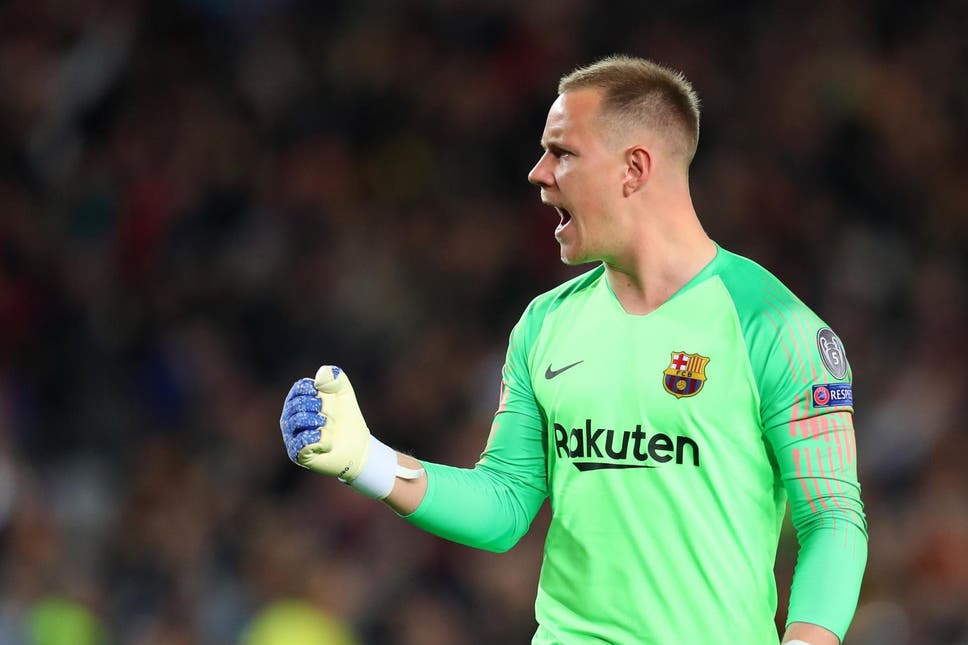 Many have tried and many have fallen by the wayside. Being the goalkeeper of Barca is different to most other clubs. Despite links with Borussia Dortmund this week, Marc-Andre ter Stegen will be Barcelona's number one goalkeeper again next season.
Left-Back : Jordi Alba
Alba's ability to cross the ball into the box is second-to-none, and his connection with Lionel Messi is telepathic. He was under rated this season and despite performing well he doesn't get the recognition. With no other viable options left, Alba is certainly expected to start next season.
Centre-Back : Pique/Ronald Araujo
It is the time for Pique to take the lead and responsibility in central defence. As the most experienced defender in a new-look Barca defence, fingers are being pointed in his direction more than ever if he doesn't step up on a regular basis. Again, Barcelona will be looking for a long-term replacement for Gerard Pique, who is now 33. Ronald Araujo is available to replace Pique if he doesn't perform well. Araujo is one of the fastest and strongest defenders in La Liga. His place in Barcelona Line up next season is quite difficult.
Centre-Back : Eric Garcia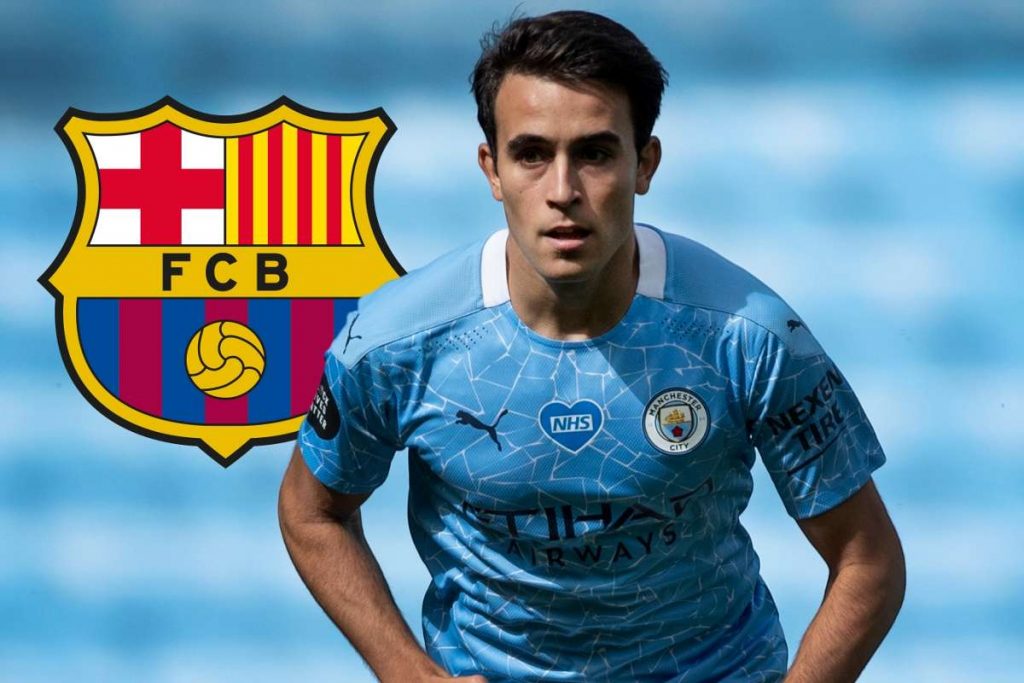 Eric Garcia is going to join the Catalans as well and we should consider him being our regular starter given Mingueza's recent dip in form. Barcelona would love to have him as Piqué's heir, but at present he could play alongside him. Garcia is an exciting prospect, and he will definitely pressure both Alaba and Araujo. The 20-year-old Spaniard is intelligent and is great with the ball on his feet.
Right-Back : Sergino Dest
At the age of 20, Sergino Dest is one of the most promising right-backs in the world, and letting him freely cruise through the right flank can greatly help the team. He is a flying full-back with devastating pace as well as the supreme skill to participate in the Barca passing attack. The youngster has to prove himself to get a place in Barcelona Line up next season.
Defensive-Midfielder : Sergio Busquets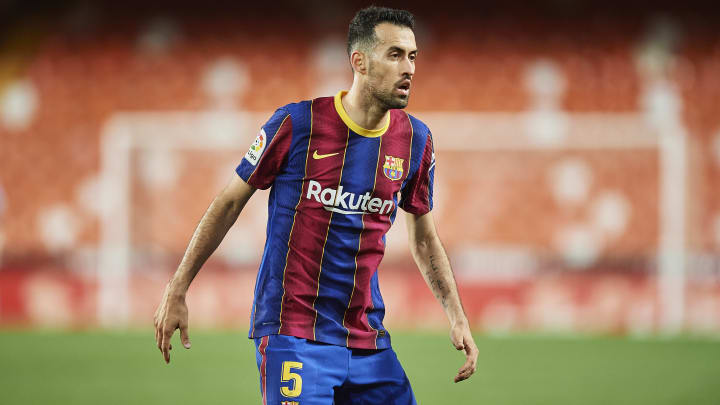 Sergio Busquets probably has one more full season left. He is the heart of the defensive line, he is perfectly set to dictate the tempo of the game. Busquets does lack athleticism and pace, therefore Riqui Puig can be another option to give chances in place of him. Therefore as for now, Busquets is the most viable option in defensive midfield.
Central-Midfielder : Frenkie De Jong
De Jong is one of the best midfielders in the world. He is intelligent, is an excellent dribbler and has brilliant vision. He also poses a direct goal threat. The dynamic duo of De Jong and Pedri can help the team maintain possession, link the defence and the attack and create a plethora of chances. He will be the heart of Barcelona Line up next season.
Central-Midfielder : Pedri Gonzalez/Riqui Puig
A duo of Frenkie de Jong and Pedri Gonzalez is deadly. Pedri is a rising star, and his impact on Barcelona this season has been phenomenal. At the age of 18, the Spaniard is one of Barcelona's best players and possesses everything an ideal midfielder should have – press resistance, excellent vision, immense work-rate and a great ball carrier. Riqui Puig will be another option for midfield spot in case of injury or rest purposes. He adds purpose and thrust that has been missing recently and with the Catalan playing higher. Pedri is going to be a regular starter in Barcelona Line up next season.
Left-Winger : Antoine Griezmann/Ansu Fati
Griezmann has under performed for Barcelona. He was a big signing for the club and was expected to deliver a lot more. There are rumors that he will be sold in this summer but it is not easy to get rid of a player like him. We are assuming that Barca would give him another chance. He would be deployed on the left flank as usual.
Ansu Fati is the perfect man to replace Griezmann in case he leaves. Fati is intelligent and efficient, he's a splendid dribbler and an excellent shooter of the ball. While he's a left-winger by nature, the 18-year-old's goal instincts allow him to be a great striker. He has impressed a lot but he is still too young. To be a regular starter, he need to wait one more season. He is too young to be a part of Barcelona Line up next season.
Centre-Forward : Sergio Aguero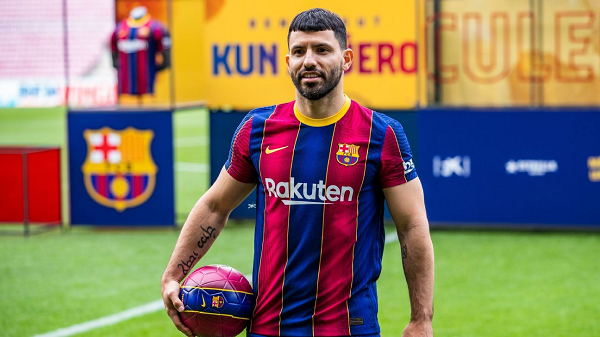 Aguero is legendary and can be trusted with making an instant impact. Koeman could trust him to fill in the spot of central striker of the team and contribute towards winning the game. He will most likely get the starting spot in Barcelona Line up next season.
Right Winger : Memphis Depay
Lionel Messi is the best player in the world and is unparalleled in almost every aspect of the game, and regardless of where he is deployed, he will undoubtedly be the best player on the pitch. It will be a difficult task for Memphis Depay to play in the postion of Messi.
Letting Depay play on the right flank parallel to the striker allows him to create a plethora of chances for Aguero or Griezmann. He will be the first name in Barcelona Line up next season.