Lionel Messi has officially joined the French club Paris Saint Germain on a free transfer. PSG signed the former Liverpool star Gini Wijnaldum by hijacking Barcelona's deal. After that they spend €60million on the purchase of Achraf Hakimi from Inter Milan. A few days later, the captain of Real Madrid, Sergio Ramos came to the club on a free transfer. It did not end there. The world best goalkeeper at the moment, Gianluigi Donnarumma also joined PSG after his AC Milan deal expired. At last, Lionel Messi, the greatest player in the world also came to Paris after he was unable to extend his contract at Barcelona. It was perhaps the best summer transfer window in the history of football. PSG got most of these big players for free. So now, after Messi has joined the club, it will be exciting to know the playing position of Messi. There are many stars in the club so it will be difficult for the coach to manage all of them. In this article, we have mentioned possible PSG Lineup with Messi.
PSG Lineup with Messi (4-2-3-1)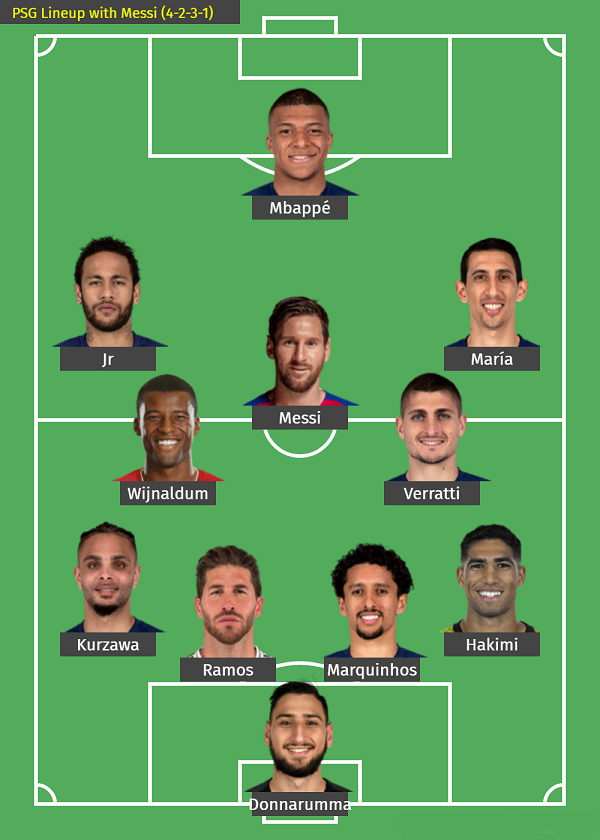 This is one of the most likely lineup for PSG next season. Messi can play the role of centre attacking midfielder with Mbappe in the forward and Neymar on the left. Di Maria and Messi can flank Messi and allow him to pick up the ball. A 4-2-3-1 has been Pochettino's default shape so far since his return to the club as head coach at the start of this year. The coach might try to fit in this particular lineup.
PSG Lineup with Messi (3-4-3)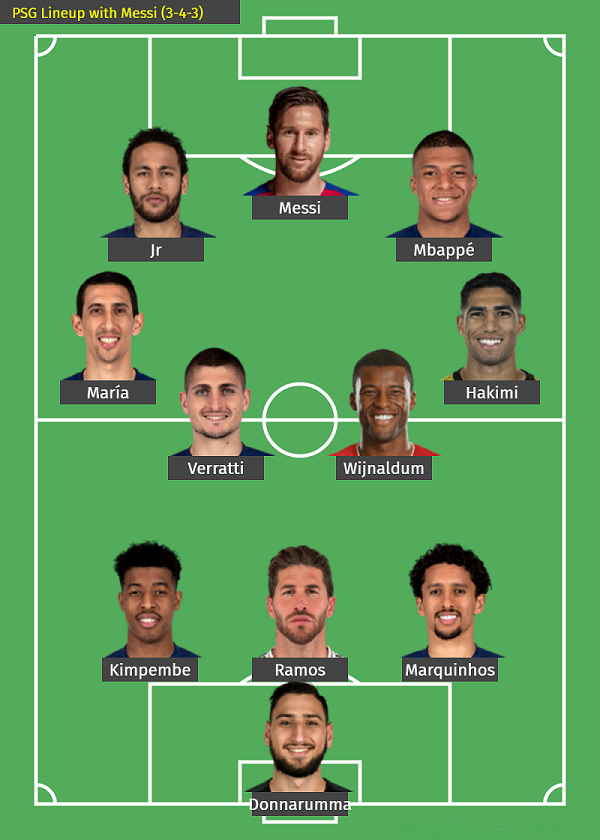 This will be the best formation in terms of accommodating the star talent in the squad. Another merit of this formation is the utmost utilisation of Hakimi. The former Inter Milan is best at this position. He can play as a right wing back but it would be difficult for Di Maria play as left wing back and he might loose his position to Kurzawa.
With the arrival of Sergio Ramos and the presence of two top more quality central defenders in Marquinhos and Kimpembe, PSG can deploy a 3-4-3 lineup. Verratti and Wijnaldum are the two players best suited to play in the middle. Messi can take the position of centre forward as Mbappe will be more comfortable on the right flank. Due to his fast speed, Mbappe will be more suitable to play in the right wing instead of centre.
PSG Lineup with Messi (4-3-3)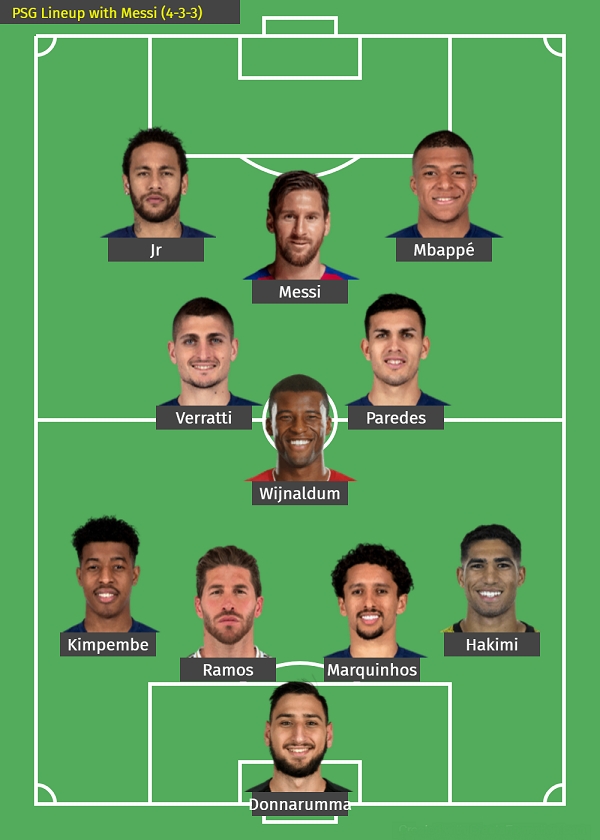 Another possibility of lineup for PSG is the 4-3-3 formation which is used by majority of clubs. This lineup can produce pure attacking firepower which will be a scary sight for opposition clubs in Ligue 1.
Lionel Messi would be most comfortable in this lineup. He has done masters in playing as False 9. He was at his best when he played at this position in Barcelona. Verratti and Wijnaldum are the two confirmed regulars in the midfield. This scenario could see Paredes getting a place in the PSG lineup. A third holding midfielder is needed and Paredes can definitely perform in that position.