Ranking the best 5 fielders in the history of IPL. This edition of the Indian Premier League will definitely be an intense one. Being the most competitive tournament in the circuit, the level of fielding has to be an extraordinary one. Fielding standards in cricket have gone to a different level in the last few years. Players are capable of pulling off superhuman efforts on the cricket field. Over the years, in the IPL too there have been some stupendous fielding and catching efforts. Fans will be excited to know the top 5 fielders in IPL and also keen to that who is the best fielder in IPL history.
Here we will take a look at the top 5 fielders in IPL popularly known as Indian Premier League :
AB De Villers – Best fielder in IPL history :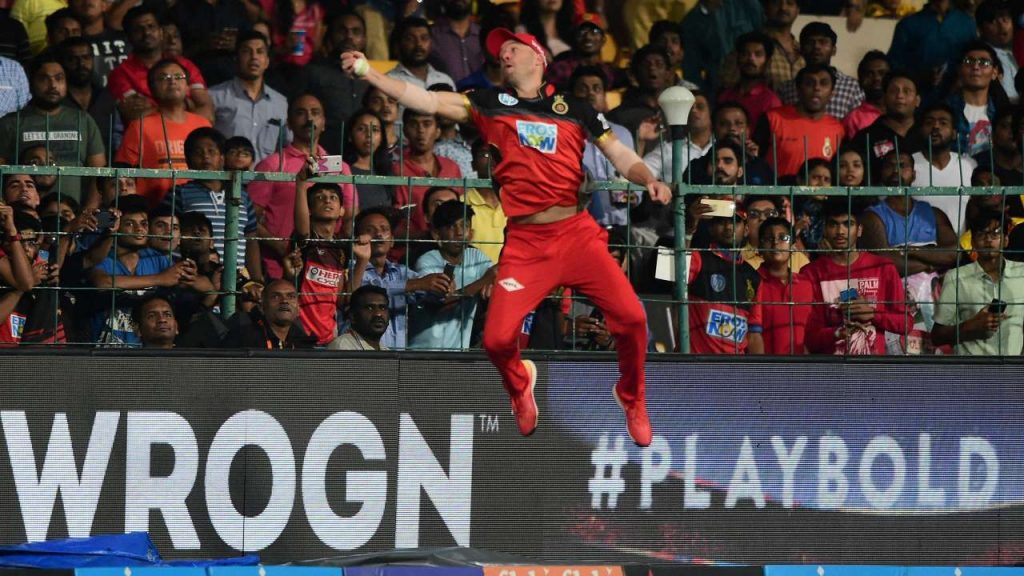 ABD has been given the nickname "SUPERMAN" because of his fielding abilities. He is a natural athlete and has a remarkable ability to anticipate and jump accordingly to take catches. He can take the field anywhere and can also keep the stumps. It is always an amazing performance when Kohli and ABD guard the fielding ends together. ABD is definitely one of the most veritable fielders currently playing the game. He has taken 83 catches till now playing for Royal Challengers Bangalore and Delhi Daredevils which makes him IPL best fielder. He would come at top spot in top 5 fielders in IPL.
Kieron Pollard – Best fielder in IPL history :
Pollard has made his mark within the fielding department with a number of  foremost unbelievable catches during his career at the IPL. Virat Kohli and Kieron Pollard are the only two players who have played for a single IPL team during their career. He is Mumbai Indian's most reliable man over the years. The man from the Caribbean can take catches out of nowhere. He has taken a total of 90 catches in his IPL career. Due to his height benefits he is able to clinch catches at the boundary line. Pollard is one of the IPL best fielder. He has been guarding the long-on and long-off region for MI. Pollard is yet another contender of top 5 fielders in IPL.
Suresh Raina – Best fielder in IPL history :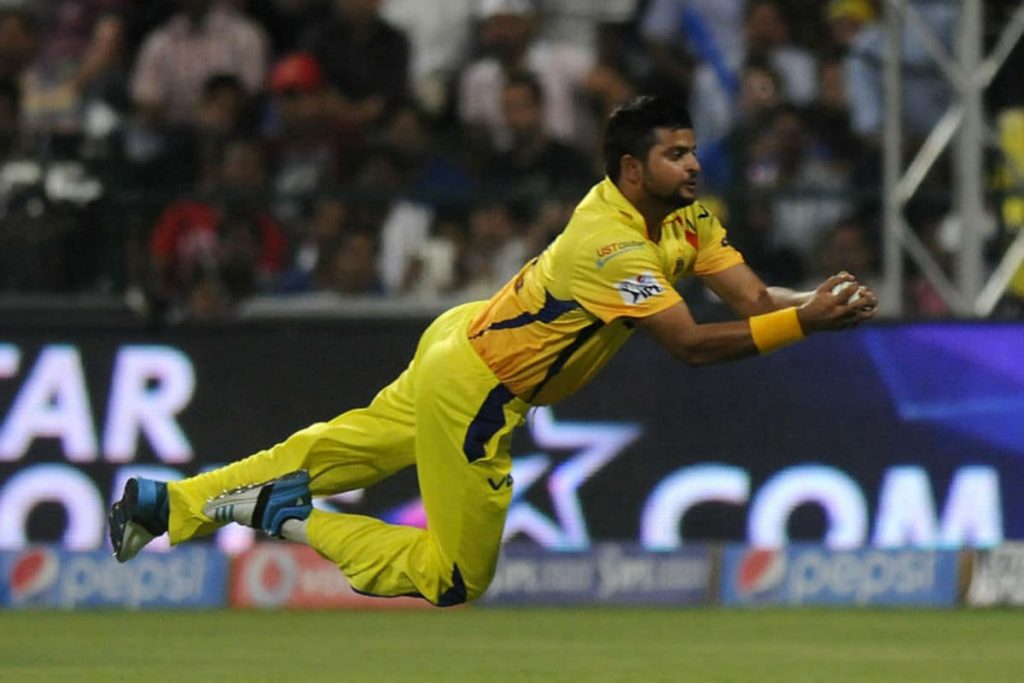 Raina is one of the best fielder of IPL till now and has taken the most no. of catches in the history of IPL. In his 10 seasons of IPL and he has taken 102 catches among which are some unbelievable catches also. Along with his batting performances he is also on top at fielding performances. He has excellent reflexes and is the best performer on the field for the Chennai Super Kings. After missing the previous season of IPL fans are awaiting Suresh Raina's return to the IPL for his electrifying performances on the field. The list of top 5 fielders in IPL will be incomplete without the inclusion of Suresh Raina.
Faf Du Plessis – Best fielder in IPL history :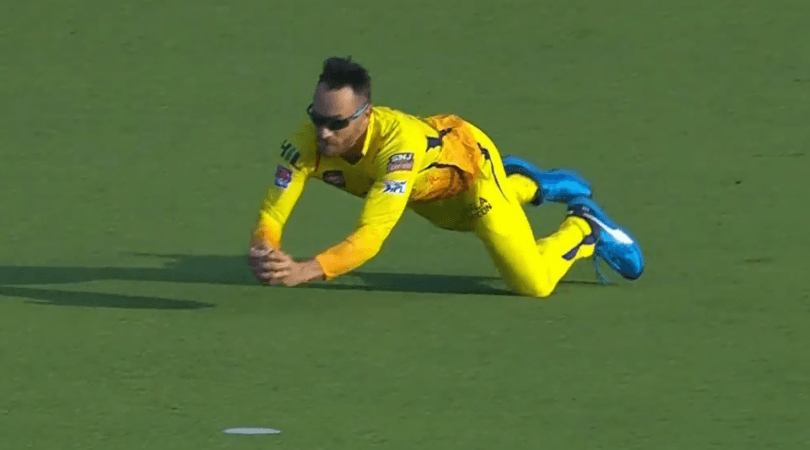 In 84 matches, Faf has taken 54 catches so far. He has played much less IPL cricket than those players listed above, but has made a significant impact in the fielding department. He was definitely the best fielder in the previous season of IPL. Faf can flawlessly stand anywhere right from being a slip fielder to guarding the long-on boundary, he can do both the task efficiently. In terms of his best catch in the IPL, his recent catch of David Warner in IPL 2020 was best one. Another South African player makes to the list of top 5 fielders in IPL.
David Warner – Best fielder in IPL history :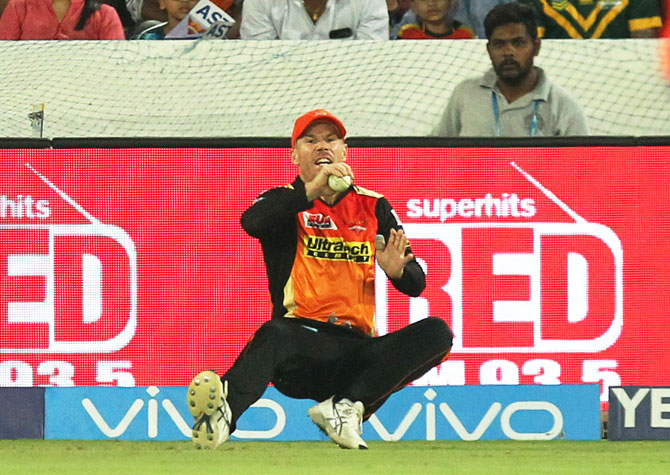 David Warner is  the most electrifying fielder in the world cricket. He has a versatile profile in fielding. Along with fielding in slips and an inner circle fielder he can do well at guarding boundary ropes also. In his fruitful IPL career, Warner has taken a total of 66 catches. Warner has taken some amazing catches throughout his IPL career. He has also saved plenty of runs on the boundary for Sunrisers Hyderabad in the past. Warner has the ability to cover the ground at a rapid rate which makes him such a valued member of the SRH squad and also earned him a place in top 5 fielders in IPL.
It can be seen from the above that there are some big names which have been missed. The competition today is very tough therefore some other amazing fielders were not able to make a place in the above top 5 fielders list. Hardik Pandya is one of those big names. He is also an amazing fielder but he has played less matches than above. He has still time to prove. Dwayne Bravo is also one of the best fielder. He has also done tremendous fielding for Chennai Super Kings in the past. Other names who have miss this list are Virat Kohli, David Miller, Rohit Sharma, Ravindra Jadeja, etc.
See also : IPL 2023 : Top 10 contenders for Orange Cap