The year 2021 will see the world's two major football competitions, Copa America and the Euros. Both Copa America and Euro cup draws fans from all parts of the world and have a massive following. Let's see a battle between best playing XI of UEFA Euro vs Copa America. Take a look at EURO 2020 Best XI vs COPA AMERICA 2021 Best XI.
Copa America is the oldest international football competition and is the third most-watched competition. Founded in 1916, the competition determines the champion of South America. The members of the competition are   Brazil, Argentina, Uruguay, Paraguay, Chile, Peru, Colombia, Venezuela, Bolivia, Ecuador.
The Euros is the primary association football competition contested by the senior men's national teams of the members of the Union of European Football Associations (UEFA). This competition determines the continental champions of Europe. Euros was founded in 1958 and is held every 4 years.
Euros have considerably more participation than the Copa America. 55 teams are eligible to play out of which 24 teams contest in the competition. Unlike the Copa, all the eligible teams have to go through a qualification process and no invitee country can participate.
UEFA pushed back the tournament a year due to the complications of the Covid-19 pandemic but it has been confirmed by UEFA that it will still be called Euro 2020 and not Euro 2021. The reason behind this decision is that most marketing and promotional materials were already branded with 'Euro 2020' and they are unwilling for it to go to waste.
On the other hand, Copa America was scheduled in last year June but has been postponed due to the pandemic. Now it is being referred as Copa America 2021.
Fans are excited to know that which team will win a match of UEFA Euro vs Copa America. We have taken a keen look over the best players from both the continents and constituted best teams of both Copa America 2021 and Euro 2020. 
Copa America 2021 Best XI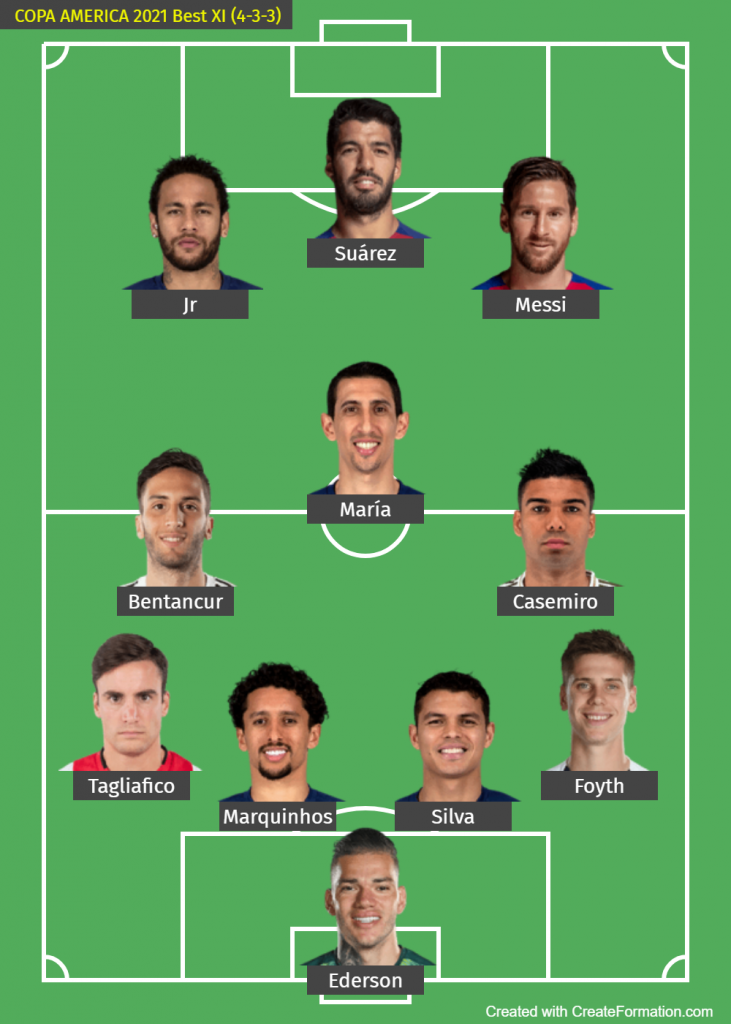 COPA AMERICA Best XI – Goalkeeper
Goalkeeper : Ederson Moraes
Two of the best goalkeepers in the world are both from Brazil. But at present Ederson in way ahead of Alisson and makes this best XI. It's clear from his playing style that Ederson really flourished once he landed in Europe. He is currently regarded as one of the most valuable shot-stoppers in world football.
COPA AMERICA Best XI – Defenders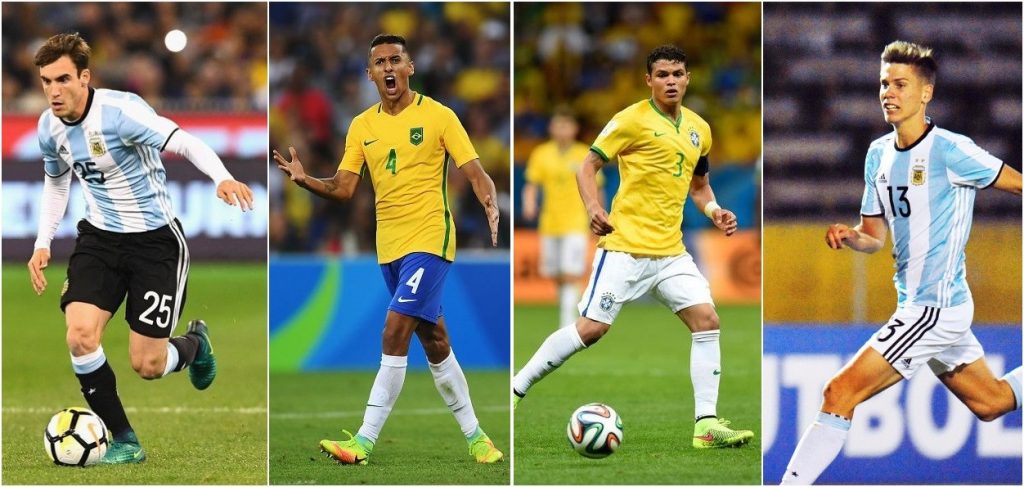 Left-Back : Nicolas Tagliafico
The Argentinean is one of Europe's most sought-after left-backs. His performances in recent times have earned him high praise, which has led to many comparing his ability to other top left-backs in the game at the moment.
Centre-Back : Marquinhos
Brazilian defender Marquinhos is considered by many as one of the best centre-backs in world football right now. It's fair to say he developed in a significant way at the Parc Des Princes and is now seen as an elite centre-back. In a team that's desperately in need of leaders, Marquinhos has shown incredible leadership skills and is one of South America's best defenders.
Centre-Back : Thiago Silva
He might be a bit old to be picked in this best XI but remember he has reached the Champions League final with Chelsea. He is the super defender who proves that you don't need to be a super bastard to make it to the top and stay there. His good aerial game and his facility to leave the bottom with the ball at his feet.
Right-Back : Juan Foyth 
Juan Foyth has become almost an entirely new player during his loan spell with Villarreal. He has spent much of this season playing at either right-back, centre-back or in a defensive midfield role for Emery's side. The youngster has won the UEFA Europa League with Villarreal by defeating Manchester United in the finals.
COPA AMERICA Best XI – Midfielders
Centre-Midfielder : Casemiro
The Brazilian is a rock in the midfield and thoroughly deserves to be in this eleven. His passing is a footnote to his defensive work, as he's widely recognized as one of the most talented tacklers and rugged defenders in world football. Casemiro is way above the rest of the continent's center midfielders in interception.
Centre-Midfielder : Rodrigo Bentancur
The 21-year-old has huge potential and is already proving to be a top midfielder in Europe. The Uruguay international grew steadily this season but didn't quite have a consistently stellar campaign. We need another leap from Bentancur. A bigger leap. And we need another thing that has sort of become a refrain here: consistency.
Attacking-Midfielder : Angel Di Maria
Di Maria is as fast as he is skilful and is a tireless worker who never gives up on the field. The Argentinean has a venomous left foot, and elegantly mixes poise with power on the field. He can send in curlers into the far corner as well as hit a rocket with equal ease and is also a gifted free kick taker. Di Maria is very good at setting up people and at attempting through passes.
COPA AMERICA Best XI – Forwards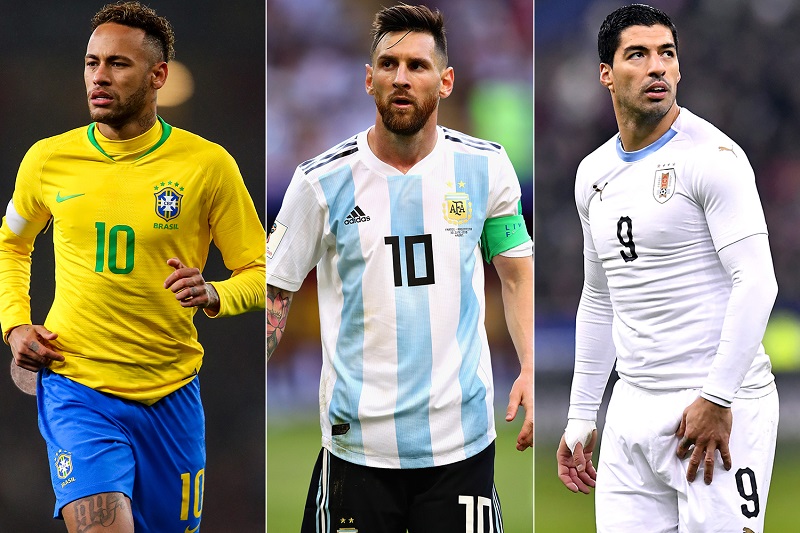 Left-Winger : Neymar JR.
Arguably, Neymar is one of the best exponents of football in the world right now. His skills and flair warrant a place in this team, and he would be the focal point along with his Argentinean colleague in such a lineup. This attack will definitely dominate in a match of UEFA Euro vs Copa America.
Centre-Forward : Luis Suarez
Suarez is one of the best strikers in the world right now. He consistently scores goals for Atletico Madrid and Uruguay. He has just won La Liga with Atletico and proved his worth after Barcelona told him that he is too old. His age doesn't stop him from featuring in the best XI of UEFA Euro vs Copa America.
Right-Winger : Lionel Messi 
It would be shocking only if the world's best footballer and current Ballon d'Or winner was not a part of this XI. Lionel Messi can score goals at an incredible rate, and he still manages to be unselfish enough to produce a high number of assists. Being Barca's and Argentina's best goalscorer of all time, he was the first name on the lineup for the South Americans.
UEFA EURO 2020 Best XI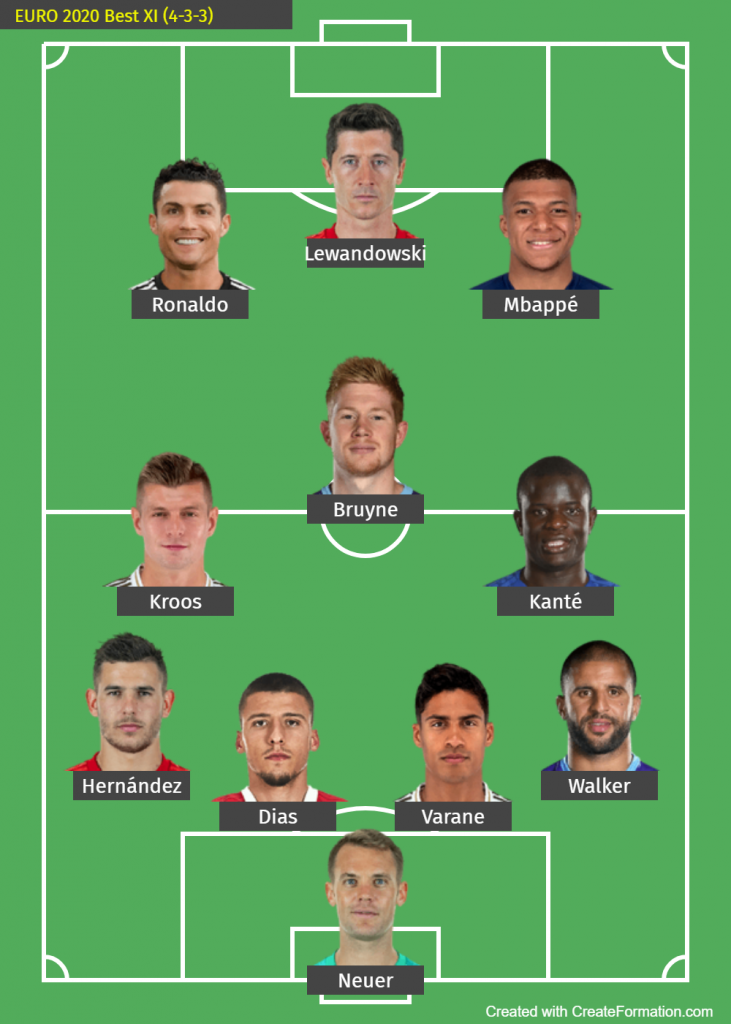 EURO Best XI – Goalkeeper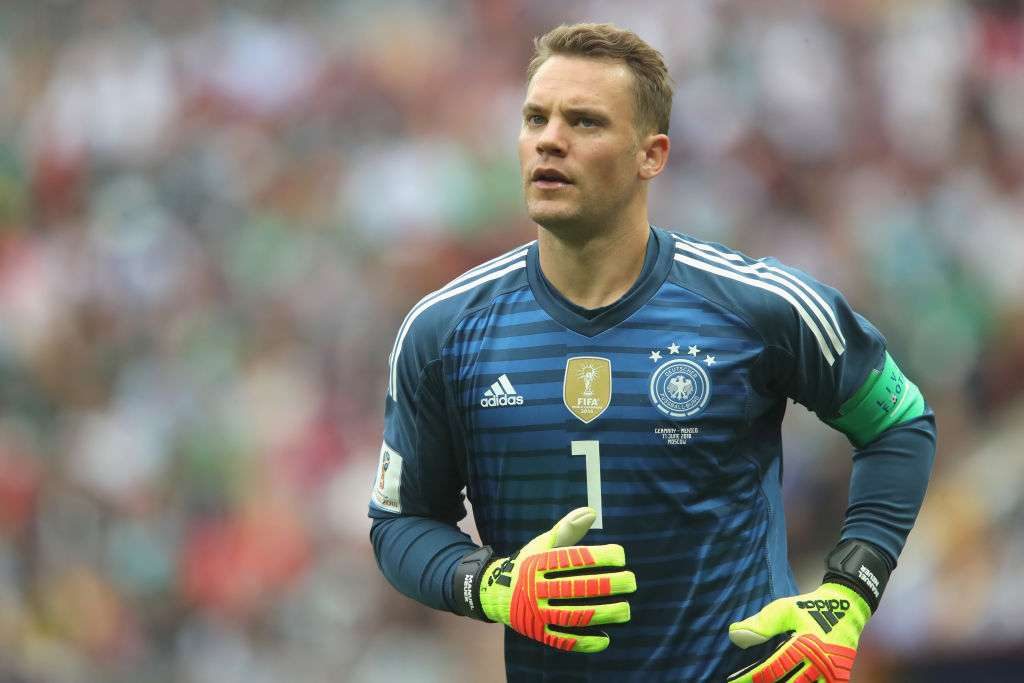 Goalkeeper : Manuel Neuer
The veteran Germany stopper has rediscovered his best form in recent seasons after a difficult spell battling injuries. Widely regarded as one of, if not the very best goalkeepers of the modern age, he redefined the role into that of a sweeper-keeper, capable of distributing the ball as well as any outfield player.
EURO Best XI – Defenders
Left-Back : Lucas Hernandez 
It's arguably been Hernandez's best season at Bayern since joining as the club's record signing from Atletico Madrid. Lucas can positioned himself excellently and is key player in dealing with dangerous balls from wide areas.
Centre-Back : Ruben Dias
Ruben Dias has been a major reason why City have been so dominant this campaign. The Portuguese defender has been incredible since signing for the Premier League giants last summer. He's a central defender who leads the line and leads the team.
Centre-Back : Raphael Varane
Some footballers are born to be champions. Raphael Varane is one such footballer. He was a class act in Russia at World Cup 2018, arguably the best defender on display. Varane is a typically modern centre-back: sleek, athletic, and frighteningly quick when required. He will be leading the defence of Euro 2020 Best XI.
Right-Back : Kyle Walker
It remains impossible to look beyond Kyle Walker as a leading right-back. Walker has been a key player for one of the best club sides that English football has ever seen over the last three years and has the versatility to play as an auxiliary centre-back in a back three if needed too.
EURO Best XI – Midfielders
Centre-Midfielder : Toni Kroos
Always calm, cool and collected, Kroos has shown unparalleled ability as a creative midfielder. Kroos is an outstanding midfielder and can change the game with his tremendous vision and his long-range shooting ability. This midfield trio is enough to clinch the victory even if the match is between best teams of UEFA Euro vs Copa America.
Centre-Midfielder : N'golo Kante
An elusive figure, Kante stands out thanks to his work rate, positioning and tackling. He is absolutely everywhere and looked back to his very best. N'Golo Kante has proven himself to be suited for many positions on the pitch, his style of play and versatility improving each year, and with every manager that the worked.
Attacking-Midfielder : Kevin De Bruyne
The attacking midfielder is one hell of a player, creating an astronomical amount of chances for his strikers with club and country. It is about time de Bruyne shares the same spotlight and recognition from the footballing world as Neymar and his countrymen Hazard. There is probably no other midfielder in the world right now that can come close to City's dynamic star in terms of finding the right pass at the right time.
EURO Best XI – Forwards
Left-Winger : Cristiano Ronaldo
A true legend, Ronaldo was the first name in this lineup of UEFA Euro vs Copa America. In Turin, he hasn't slowed the pace and is still the goalscorer he once was despite turning 36 in February. Ronaldo's combination of physical and technical abilities just makes him better. He is simply a better fit for today's game. His athleticism is second to none; he combines dizzying pace with powerful shooting and a jumping ability of an NBA star, which makes his headers a serious threat to the opposition.
Centre-Forward : Robert Lewandowski
Just imagine a forward three with Cristiano at left wing and Mbappe at right wing, then the player who most deserved to be in the centre is none other than Lewandowski. The Bayern star's sensational goalscoring exploits ensured that his side were crowned Bundesliga champions earlier this month. He was the heavy favourite to win the Ballon d'Or in 2020 but it was cancelled due to the pandemic. His amazing performances got him a spot in this UEFA Euro vs Copa America Best XI.
Right-Winger : Kylian Mbappe
One of the most deserved entry in this eleven. Mbappe is a player with outrageous pace, seemingly physics-defying dribbling and goals. The PSG forward has already won all of France's domestic honours and the World Cup with his country. Mbappe is also now the face of French football. If there will be any match of UEFA Euro vs Copa America, then he surely gets to start.
UEFA EURO 2020 Best XI vs COPA AMERICA 2021 Best XI